Experience a piece of art while waiting for your bus.
Don't Stop is a series of murals on four bus shelters in Lavington and North Albury, encompassing Take a Moment by Reuben Boughtwood, Home is Where My Heart is by MCRT Studio, River Bendy River by Chris Henderson and Blossom and Fall by Lydia Morgan.
Presenting diverse artistic approaches, Don't Stop magnifies everyday people, objects and sights that are familiar to the community. In addition to revitalising aging bus shelters in dull concrete, corrugated iron and pebbled surfaces, four mural artworks explore feelings and elements in our day-to-day living, deeply informed by community members through socially engaging processes.
---
Take a Moment
Location: Mate Street after Swan Street, North Albury
Reuben Boughtwood's work Take a Moment reflects on a bus waiting moment in love and companionship. Reuben is a Sydney-based artist originally from New Zealand. His murals are primarily a realistic representation of themes that speak to the local community.
In Lavington and North Albury, Reuben engaged conversations with community members, learned about life in regional cities and took photographs of them, which became key reference for his concept.
Featuring close-up facial expressions of local people in a realistic manner, Take a Moment powerfully evokes a feeling of companionship. It is reminiscent of gaps in a day could be enjoyed with families, friends and even strangers. The feeling signifies a shared human experience. The artwork is essentially for everyone.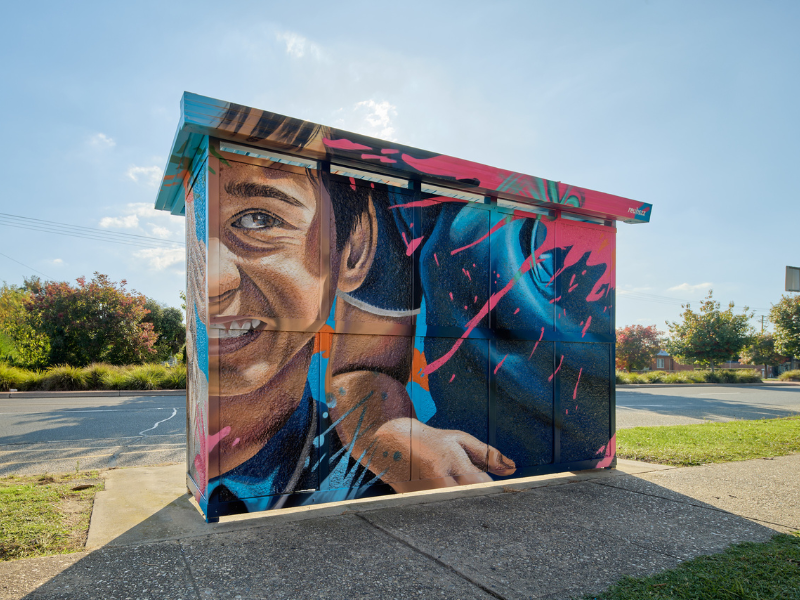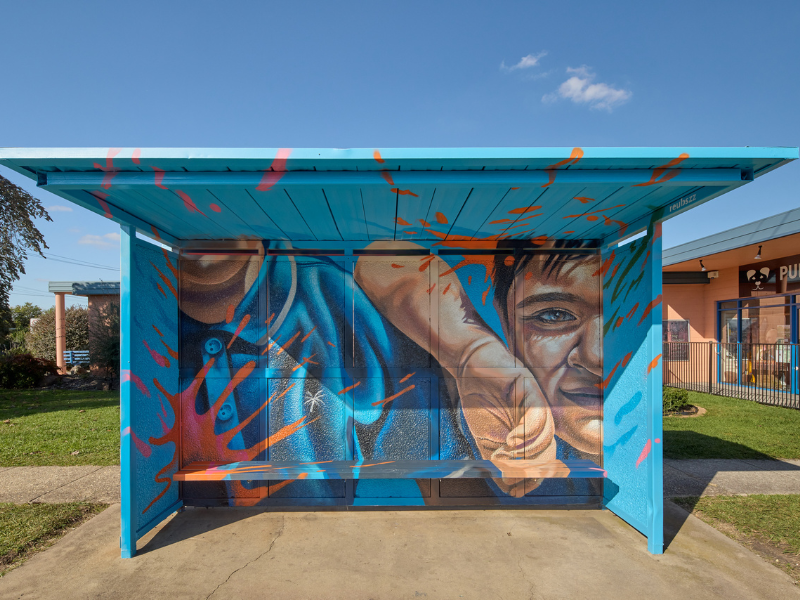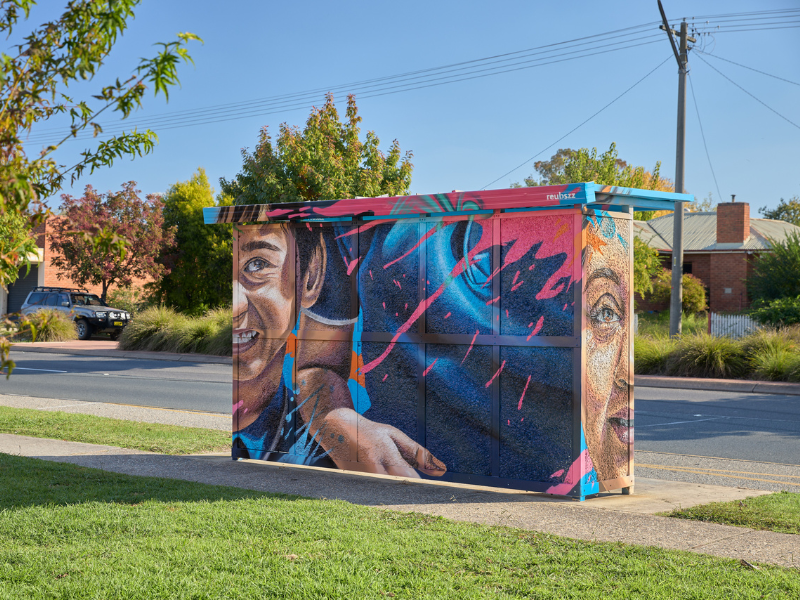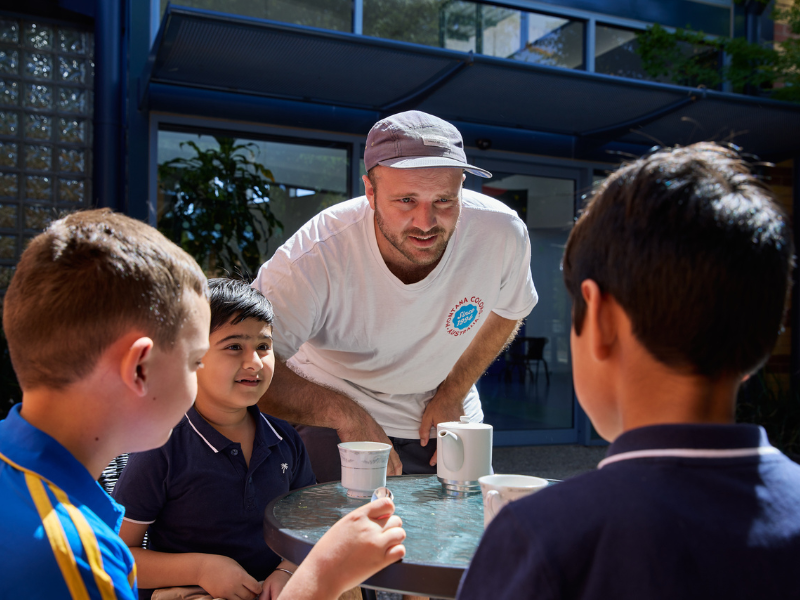 ---
Home is Where My Heart Is
Location: on Webb Street before Kaitlers Road, Lavington
By Maxim Chikanchi and Rozelle Tan from MCRT Studio, Home is Where My Heart is presents two photo collages of objects and sights captured in the neighbourhood together with found images.
As the targeted shelter is behind Murray High school and is frequently utilised by students, MCRT studio delivered workshops where they inspired Murray High students to capture interesting objects that connect them to the place, before they were directed to create collages with photographs they took.
The final artwork is contributed by both artists and students. In a photo-realistic approach, Maxim and Rozelle hand painted on PVC sheets before they were installed on the pebbled surface. Transforming the experience of waiting for public transport, Home is Where My Heart is tells a vivid story of the local community. It discovers fascinating yet easily overlooked elements that compose our everyday life.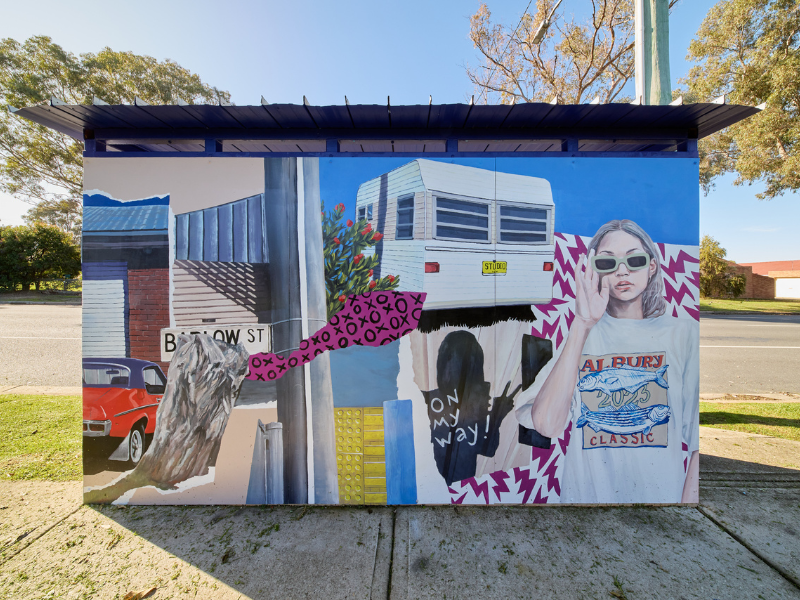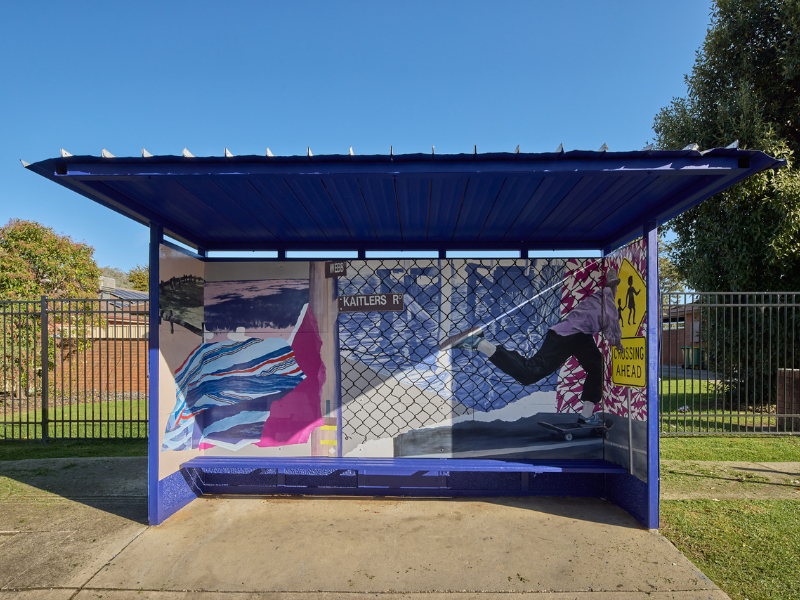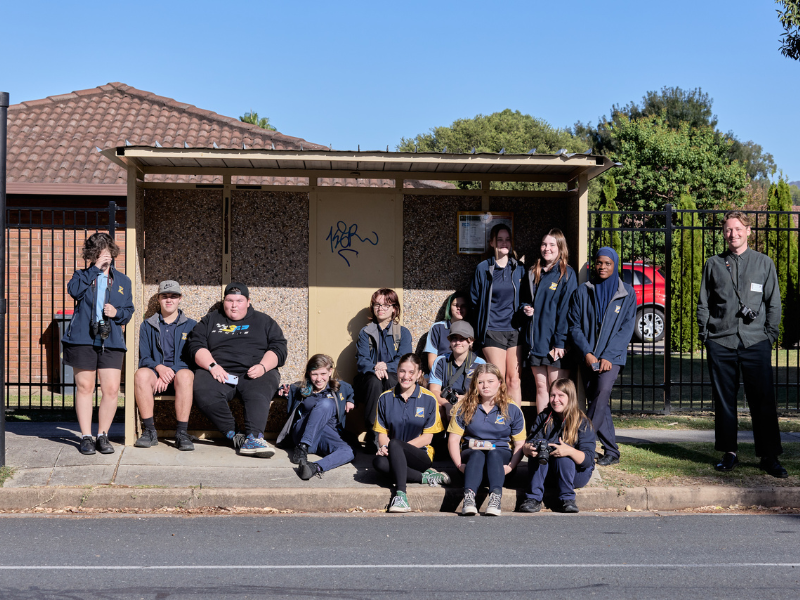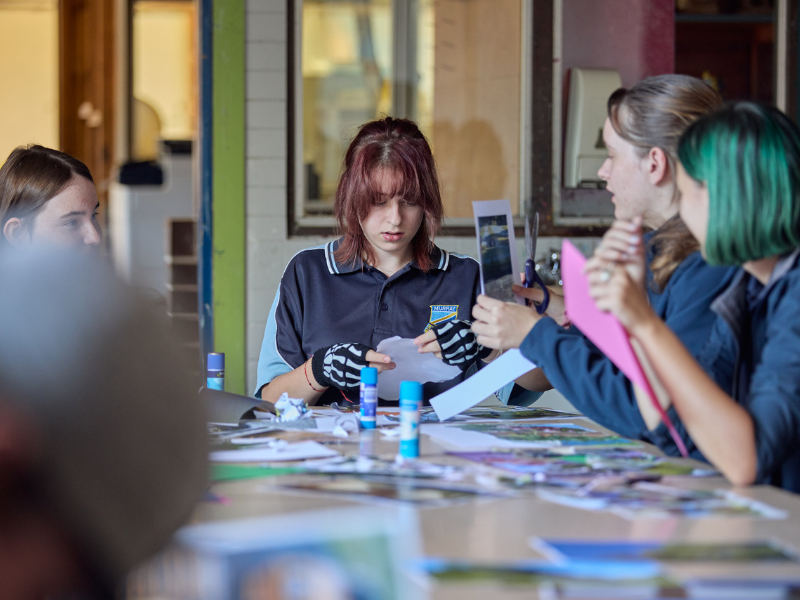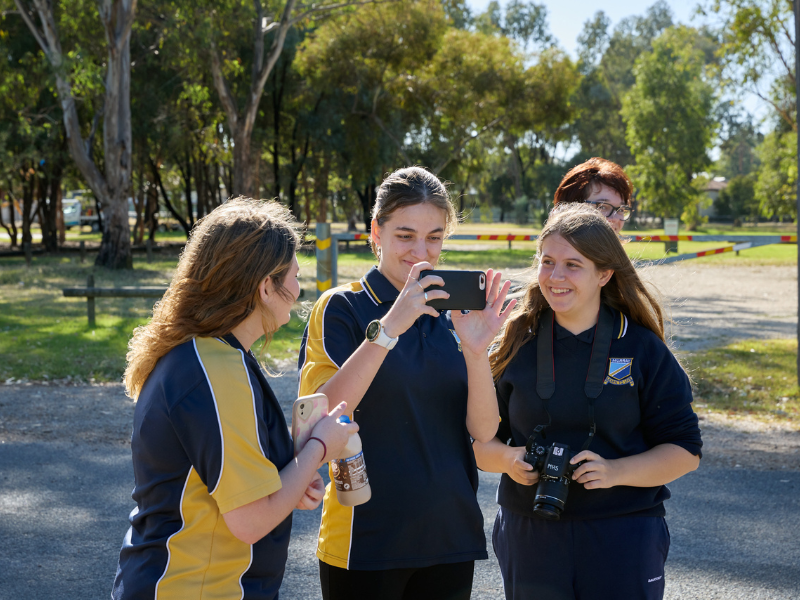 ---
River Bendy River
Location: on Hague Street before Urana Road, Lavington
Wangaratta-based artist Chris Henderson (a.k.a. SIRHC) intertwines creative ideas of Lavington public school students in the process of putting together River Bendy River.
Chris held workshops with a class of year 6 students. After guided quick drawings, the theme of 'play, adventure and imagination' was chosen by the class. On the next day, students created final drawings based on the theme for Chris to embed in the mural design for the bus shelter opposite the school.
For a cohesive visual outcome, Chris centralises the most recurring motifs in student drawings: the Murray River, native water plants and animal. Evidently, the voices of nature and wildlife can be prominent when growing up in the region.
With higher exposure to public murals at early stages of life, it is hoped that the power of arts and culture can be seen and utilised in our community.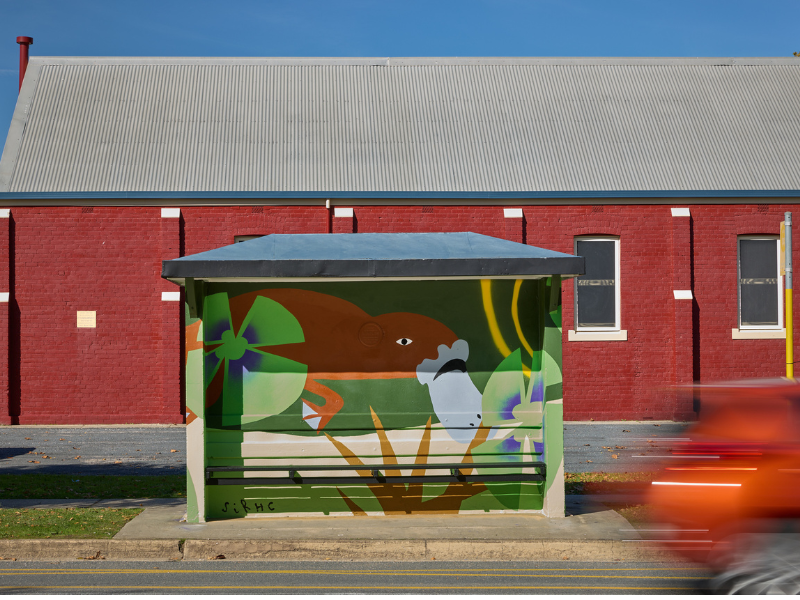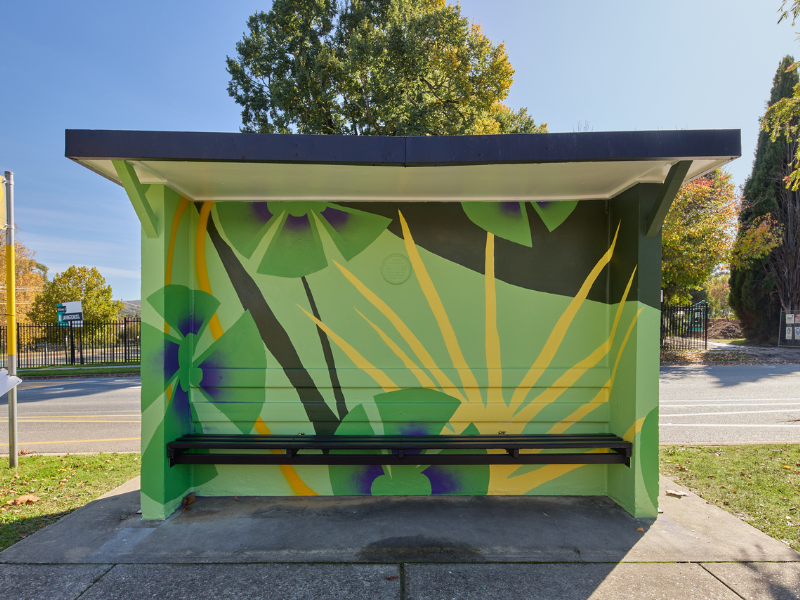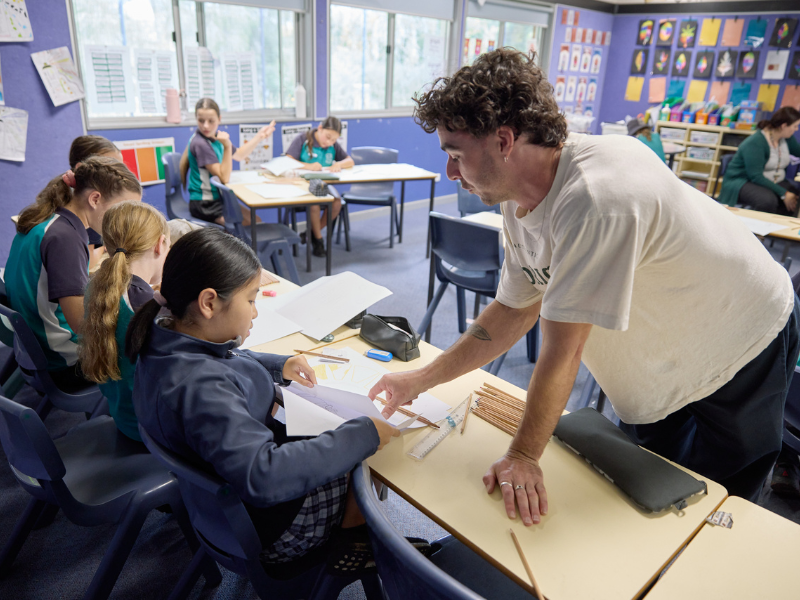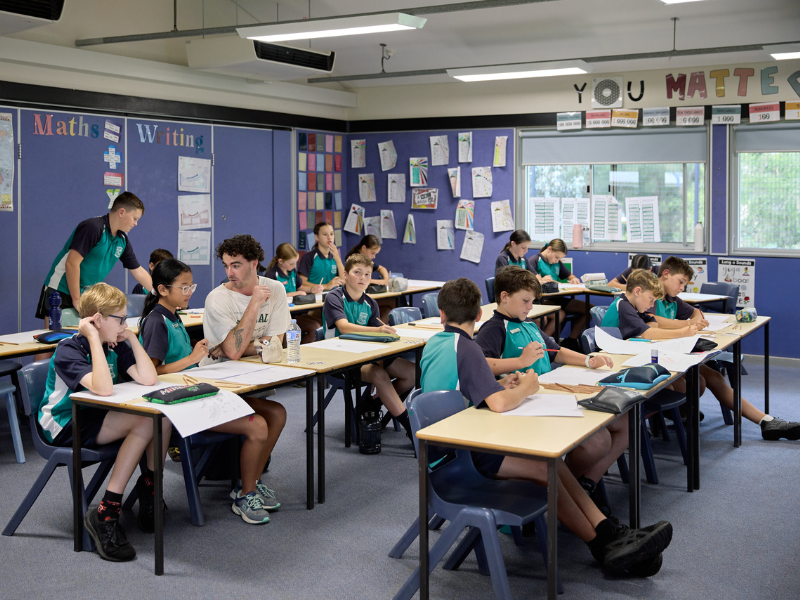 ---
Blossom and Fall
Location: on Calimo Street after Wantigong Street, North Albury
Arising on Calimo Street after Wantigong Street is Blossom and Fall by Lydia Morgan. In response to the challenges of corrugated iron and steel bars on this shelter, Lydia transforms the space with art in an abstractive approach.
Community engagement behind this mural involves an open call on a Have Your Say page, where community members put in opinions on what could be included in the artwork design. Majority of feedback is associated with native animals and vibrant colours. Addressing these comments, Lydia created the design inspired by wildlife and plants found near the Murray River, numerous surrounding parks and wildlife reserves, incorporated with splashes of bright colour.
The exterior and interior of this bus shelter sees a reduced form of large-scale native flowers, the depiction of which expansively travels across the top, bench and pavement. Creating an immersive space of fun, art and conversation for the community, Lydia pushes the limits on what forms of art can be anticipated in the public realm.