We are committed to providing high-quality education and care for children and believe that to do this we also need to be continually improving our practices. The National Quality Framework gives us the opportunity to demonstrate our practices and be assessed to ensure that we are providing high-quality services.
Belonging, Being and Becoming
The Early Years Learning Framework for Australia informs the development of our programs to enhance each child's learning and development. Our programs are designed to enable children to learn through play - interacting with peers and educators to extend their learning, encounter new ideas and challenge their thinking.
Our educators are skilled in extending children's learning through intentional teaching, responding to spontaneous events and taking a holistic approach to learning and wellbeing. Our environments are welcoming spaces where children can move between a variety of experiences at their own pace, guided by their own interests.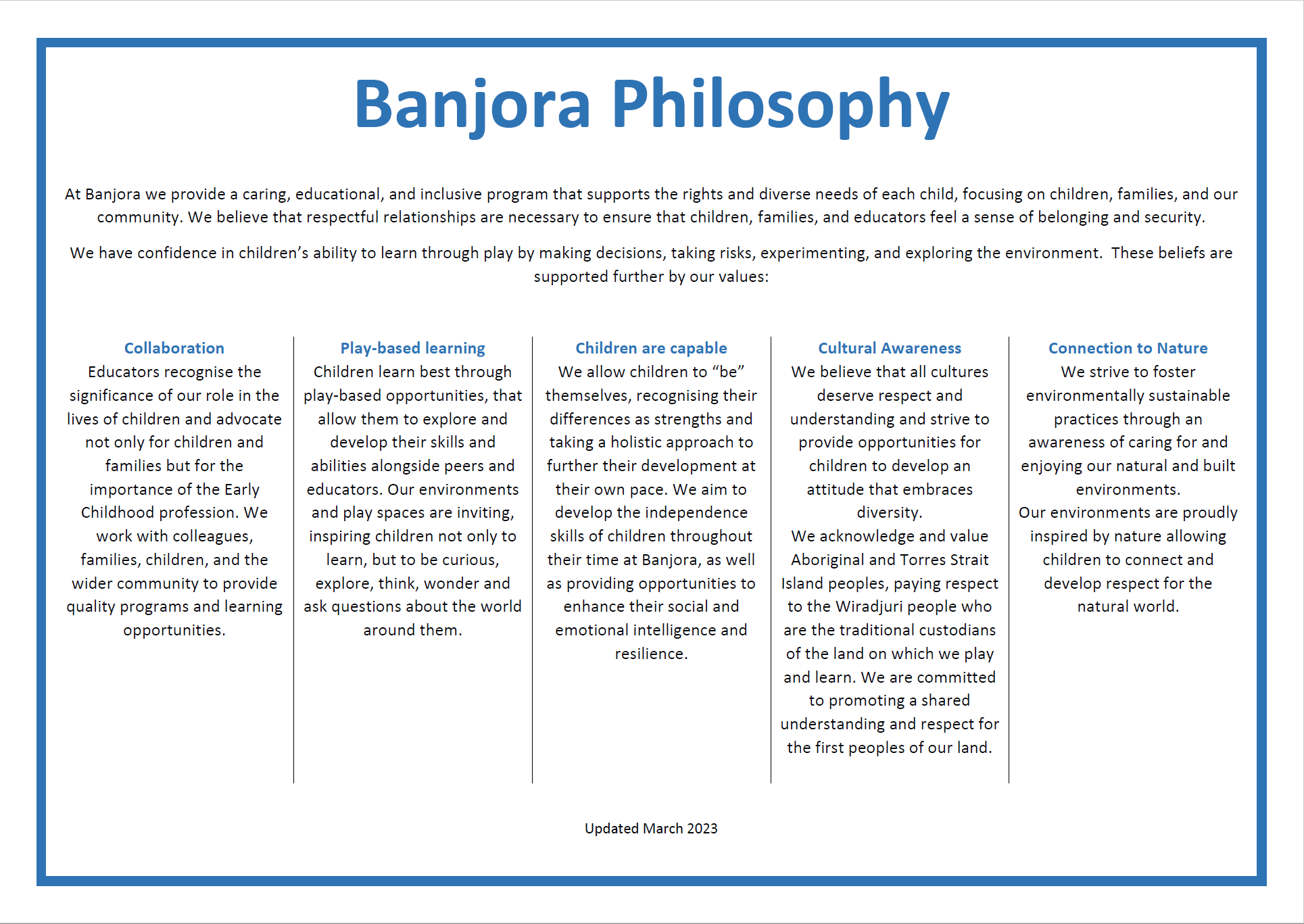 What we offer
Nutritious and balanced meals: morning tea, lunch and afternoon tea
An extensive school-readiness program
Play-based developmental programs based on children's individual and group needs as well as their interests and strengths
Qualified and experienced educators, with all permanent educators trained in first aid
All nappies and wipes
Our large outdoor play environments provide children with opportunities to care for the environment, develop their risk skills and enjoy being outside in a space with lots of trees for shade.
We like to take the children on excursions. These may occur in our local community, visiting the nearby supermarket or local parks. On other occasions, we like to visit the wider Albury community with visits to the Library or Botanic Gardens, for example.
For more information, download our: Banjora Handbook
How to Enrol
Bookings and enrolment for Banjora are managed online through My Family Lounge (MFL). Families can create an account and enter a request for the days of care they require. This will be added to our Waitlist. When a place becomes available, we will email you with an offer of care.
Existing Banjora families can log in and update their child's enrolment details and request future bookings.
Step 1

Create a My Family Lounge (MFL) Account - (click Register in the widget below)
Follow this step-by-step guide to create your account. (If you already have an MFL account, skip this step and log in below)

Step 2

Add the basic contact details for yourself and your child/ren in your MFL account.

Step 3

Request a permanent booking (step-by-step guide)
Tell us what days of care you require. Once you request care, this adds you to the Waitlist.

Step 4

When a place is available, you will receive an email offer. Follow the email instructions to accept the offer.
Once accepted, you will need to complete the enrolment form for your child/ren.
Contact Us
If you need more information or would like a tour, please contact us.
Monday to Friday: 6.45am-5.45pm
Public Holidays: CLOSED

Phone: 02 6043 5830
Email: banjora@alburycity.nsw.gov.au
Visit us:
Banjora Children's Centre
30 Cardo Drive
Springdale Heights, Albury