Image: Installation views of Lost and Found (2007) by Alex Seton, Albury Airport
Carved by the renowned Australian contemporary artist Alex Seton, Lost and Found is a body of six sculptural works on life-sized objects travelers might have carried throughout time.
Entering the departure building of Albury Airport, visitors encounter luggage pieces scattered in the vicinity: bags and a sleeping roll from the 1930s, a suitcase from the 60s, a backpack from the 90s and a stack of daily newspapers. With a closer observation, one may realise that on one side of the newspaper stack reads The Age and on the other side Sydney Morning Herald. The imposed meanings symbolise Albury as a key travel stop and social connection historically between New South Wales and Victoria. The bags referenced 'swags' carried by soldiers coming to and from the countryside during World War II (such as those observed by Russel Drysdale in 1943). Overall, the artwork signifies the role of border region Albury has been playing from the 20th century to now.
Lost and Found is deceptive; the realistic representation of soft textures juxtaposes hard and cold materials. This illusion of materiality invites a contemplation of who had owed these objects and why they were travelling. In this moment, have our travel experiences shifted from that of the departed baggage owners, or are we merging our contemporary feelings to the lost memories?
Alex Seton is well-known for marble carving. He focuses on materiality as a poetic device, often for the complexity between individuals, societies and their histories. Growing up in the Wombeyan Cave Region (traditional lands of the Gundungurra people) around the marble quarry, Seton was given the opportunity to immerse himself into natural materials at early stage of his life. The wide adoption of Wombeyan marble across his artistic creation allows him to make work about life in Australia, with the material colours and textures of this land.
Commissioned by AlburyCity in 2007, Lost and Found had been situated outside Albury Railway Station till 2022. For a higher exposure and for conservation purposes, it was restored by the artist and relocated to their new home in the departure building of Albury Airport in 2023.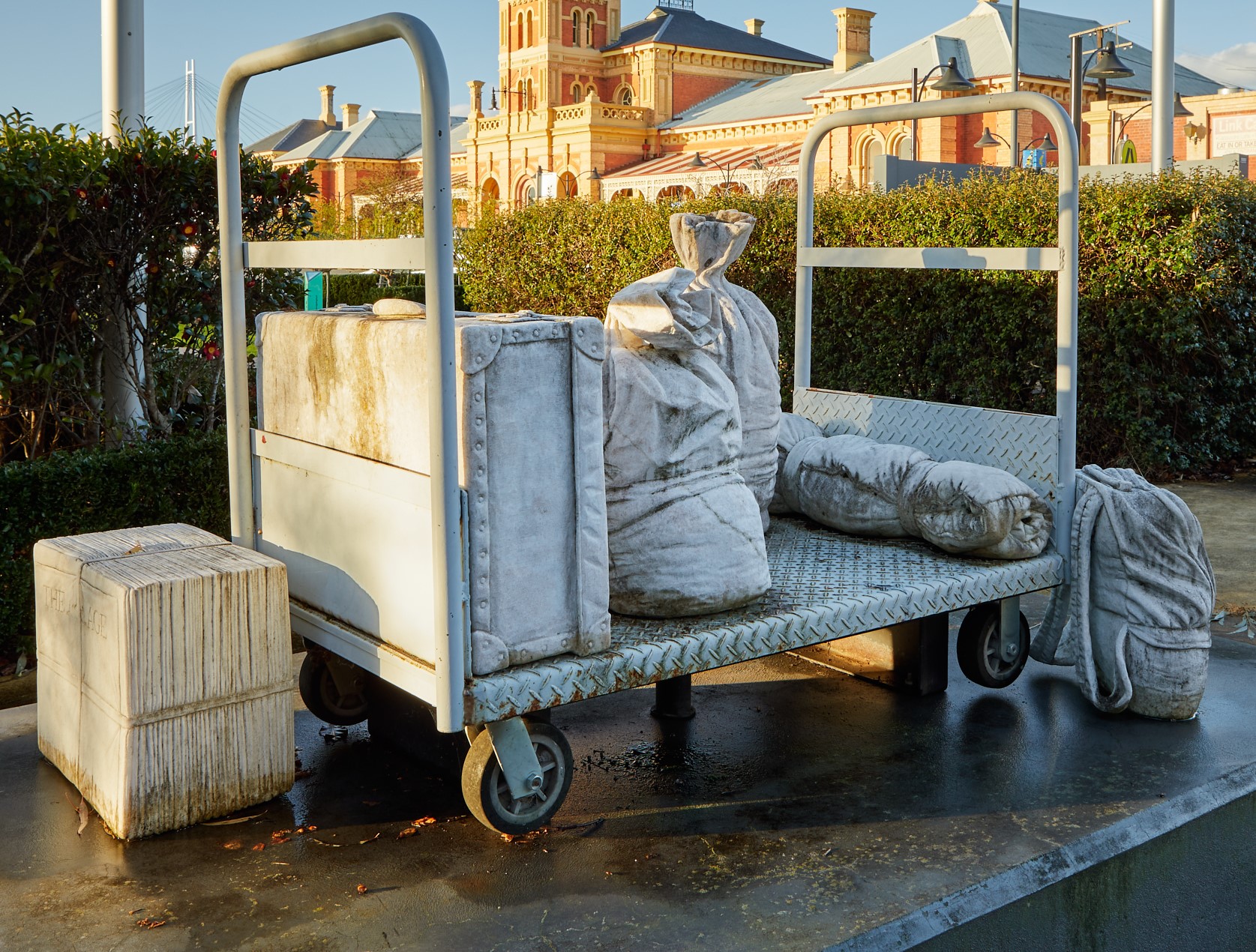 Image: An installation view of Lost and Found (2007) by Alex Seton, outside Albury Railway Station in 2022. Photographed by Jeremy Weihrauch
(Please Note: The trolley is not part of the artwork)