We're still here
As a result of the Covid-19 Pandemic, our office is closed for face-to-face meetings.
For urgent funeral matters, please call us on 02 6043 5655 or email ggardens@alburycity.nsw.gov.au
Under the current restrictions, we recommend only visiting the memorial gardens for essential purposes (i.e. attending a funeral, organising a funeral or grave).
Glenmorus and our other cemeteries will remain open and our cemetery team is observing social distancing measures to keep our locations as safe as possible for our community to honour and celebrate life.
We understand that this may be a difficult time for many, however, we have a shared responsibility to comply with the Australian Governments public health measures to help slow the spread of COVID-19.
Latest Government information?
From 14 June 2020, restrictions have been lifted for attending funerals in NSW, subject to social distancing directives.
The limit to the number of people who may attend includes adults and children and excludes the people necessary to conduct the service or assist in the conduct of the service such as the funeral director and their staff.
People attending the service will be required to supply their name and contact details so that they can be used for contact tracing.
What this means for us
Up to 34 attendees are allowed at our Glenmorus Reflection Room/Chapel.
For funeral guests unable to attend in person, live streaming might be a solution and should be discussed with your funeral director well in advance of the service. A recording of any service held in our Glenmorus chapel can be made available on a DVD to share with family and friends after the service. Please ensure your funeral director knows you would like this before the service begins.
Please note that social distancing measures still apply, and all attendees must maintain the required 1.5 metre minimum person-to-person spacing for outdoor services, and the four-square-metre per person minimum for indoor events.
Can I visit the grounds outside of attending a funeral?
Under the current restrictions, we recommend only travelling for essential purposes.
Some alternative ways to remember your loved ones while staying at home include lighting a candle or holding a virtual remembrance with family and friends. Social distancing measures still apply.
We are continuing to communicate changes with the Funeral Directors that work with us. They can guide you on arrangements and discuss options for your service.
We offer:
A range of burial options from standard lawn areas to hilltop monumental sites.
Cremation - our chapel has seating for 120 people and looks out on to the beautiful gardens and bushland.
Memorialisation including a range of sites from garden beds to niche walls, rose gardens and gazebos
Prepaid cremation, burial and memorial options with flexible payment plans.
Burial options
We understand how important it is for families to be able to create the most suitable and personalised memorial site. With this in mind, we offer the following burial options at Glenmorus Memorial Gardens.
Monumental Lawn
Overlooking the cemetery this hilltop burial area requires a full upright granite headstone with plaque (not included in price). You can choose the different style and colour of headstone within the cemeteries guidelines.
Section 11G Granite Wedge
Elevated manicured lawn area, requiring a granite wedge base and plaque.
General Lawn
Manicured lawn area of the gardens, requiring a concrete/granite base and plaque.
11C Lawn
Manicured lawn area of the gardens, requiring a concrete base and plaque.
Crematorium Chapel
The Crematorium Chapel is an alternative to the traditional church or funeral home setting. Located in the beautiful grounds of Glenmorus Memorial Gardens, it looks out on to the serene native bush of the surrounding hills.
The chapel has seating for 120 people, standing room for a further 30 people inside and space for another 50 in the covered outside area.
Facilities include:
a sound system (including CD player and iPod port) for background music
a laptop for PowerPoint or video tributes
an organ (please make prior arrangements for an organist)
recording of services onto DVD (please request this service in advance)
a kiosk outside the chapel with self-serve hot drinks
Memorialisation
A memorial is an enduring tribute to a person's life. It provides comfort and support to families and friends as they reflect on the life that was, and a focal point for current and future generations to remember, pay their respects and celebrate those who have preceded them.
Our beautiful memorial gardens offer a serene environment in a tranquil bushland setting nestled into the surrounding hills. You can choose a resting place for your loved one in exquisitely manicured gardens, beside tranquil waterways or in natural parkland areas.
Memorial placement
Arrangements for the day of placement are entirely up to you. You can choose to hold a service in our chapel before the memorial placement. This can be a formal occasion with a minister/celebrant or a relaxed personal time to share memories. Or you can choose a formal or informal service at the memorial site itself.
Contact us to arrange an appointment
Memorial Choices
The following options are available for memorialisation. Let our caring staff help you with this process.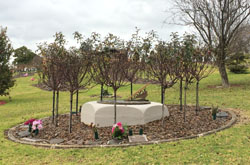 Bronze sundial
Circular garden bed around a sundial. The ashes are placed into the garden bed and the plaque and base are positioned above.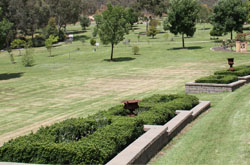 Grange terrace
Elegant structured raised garden beds comprising manicured Tom Thumb hedge surrounding artwork. The ashes are placed into the garden bed and the plaque is positioned on the raised edging.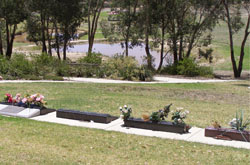 Granite ash grave
The ashes are placed into a grave overlooking the native bush gardens and the plaque is set into a granite wedge base.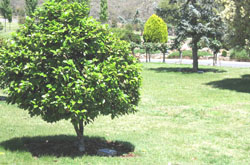 Individual shrub or tree
A shrub or tree located in an open area of the grounds. The ashes are placed into the bed at the base of the shrub or tree, with the plaque and base positioned above.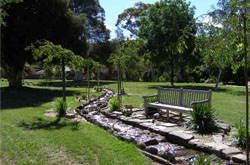 Memorial Seat
Memorial seats are placed throughout the grounds. Plaques are fixed on the upright part of the seat.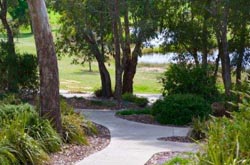 Native bushwalk
Native garden bush setting overlooking the natural water features. Where the ashes are placed into the garden with a unique bush edged plaque.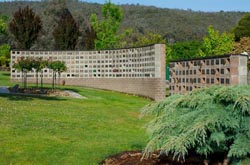 Niche wall
Traditional memorial wall. The ashes are placed into a wall cavity with the plaque on the front of the wall.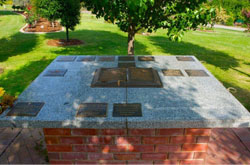 Open book
Raised brick feature. The ashes are placed in a locked cavity with the plaque on the surrounding structure.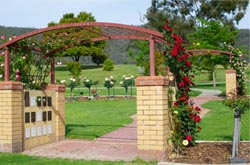 Rose arbour niche wall
Modern niche wall with wandering roses. The ashes are placed into a wall cavity with the plaque on the front of the wall.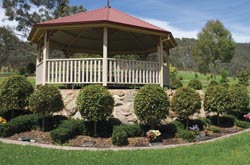 Rotunda garden
Circular raised garden overlooking the dams at the entrance of the cemetery. The ashes are placed into the garden bed with the plaque resting on top.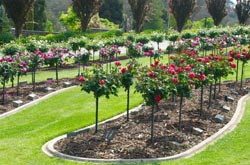 Standard rose and rose garden
Standard rose bush. The ashes are placed in front of the rose, with the plaque and base positioned above. The Rose Garden comprises bush roses. The ashes are placed into the garden border.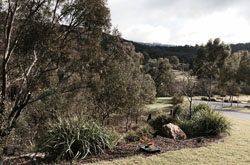 Sunset summit
Garden bed located at the highest point of the cemetery, overlooking the entire grounds. The ashes are placed into the garden bed, underneath the plaque.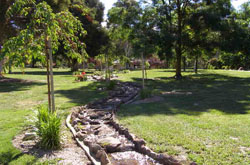 Watercourse garden
Family site at the highest point of the watercourse. The ashes and plaque are placed into the garden bed.
Pre-paid options
We provide a range of options for pre-paid, burials, cremations and memorials.
Having pre-paid arrangements in place will help ease the burden of decision-making on your family, both emotionally and financially.
Payment plans are available over a 12-month period.
We will send you a certificate when you complete the full payment.
Pre-paid burials
Choose your preferred burial plot or ask us to nominate a burial plot on your behalf.
There are four burial types available:
Monumental lawn
Section 11G – granite wedge
Section 11C – lawn
General lawn
Pre-paid cremation
Pre-pay for cremation at the Glenmorus Memorial Gardens crematorium. You can also include chapel services in a pre-paid arrangement.
Pre-paid memorial
A pre-paid memorial allows you to choose your preferred memorial site or ask us to nominate a site in your chosen area on your behalf. We also offer pre-paid family memorial sites.