The Albury region has a long history of transport and automotive innovation. From Sunday driving in the countryside to the thrills and excitement of the Hume Weir Racetrack, Accelerate explored our driving and riding past, as well as local inventions that have made an impact locally and on the world stage. All things car, bike and motorcycle were celebrated as we investigated how vehicular transport has shaped our community.
Early Transport
Long known as the place where rail travellers crossing the state border between New South Wales and Victoria had to change trains, or as a convenient stopping place on car trips between Sydney and Melbourne, Albury has a complex transport history. Prior to the coming of the railways, goods were transported to and from Albury by river on paddlesteamers or overland by bullock train. The first overland mail service came through Albury in 1838 and the first paddlesteamer arrived in 1855. The railway connected Melbourne to Wodonga in 1873, and Sydney to Albury in 1881. A railway bridge was built in 1883 to connect the two lines. In the interim, horse-drawn coaches took passengers between Albury and Wodonga. The river trade had all but ceased by the 1890s.
In the late 1800s, horse-drawn coaches facilitated travel between cities and towns. It took more than 24 hours to get from Melbourne to Albury via Beechworth, and up to five days and nights to travel from Sydney to Albury. Local travel was done on foot, on horseback or by horse-drawn vehicle. The first motor car seen in Albury was a steam-powered four-wheel Phaeton driven by Edward L. Holmes in 1900. The visit created quite a stir, with crowds of locals coming out to see the vehicle off when it left town. Even after cars became a mainstay in the town by the 1930s, the lack of public transport meant that most people got to work or school on foot or by bicycle.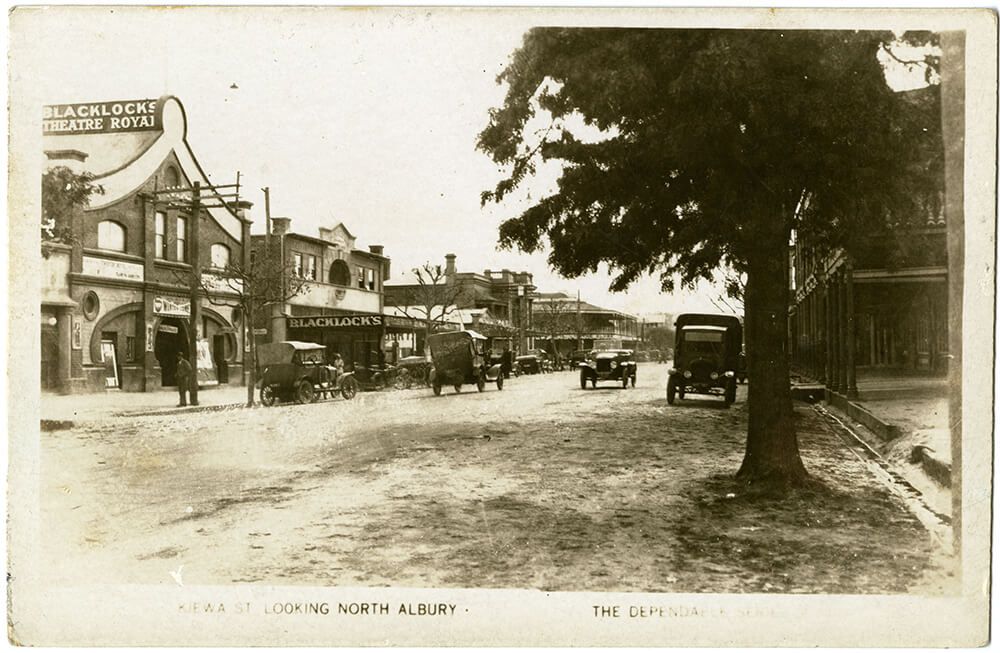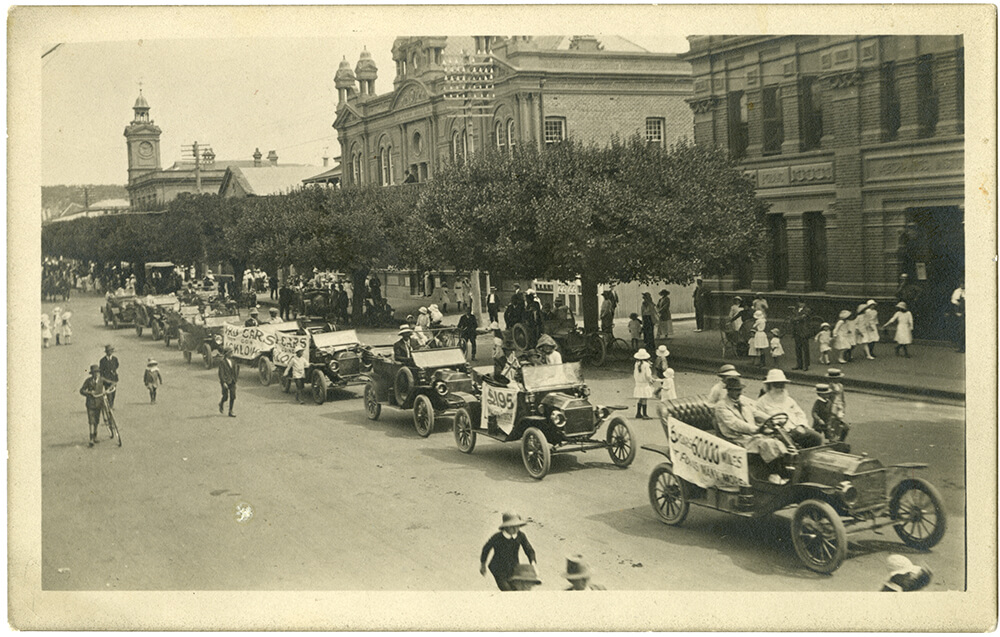 Getting Around
Though there was no public bus for transport within Albury until the 1920s, privately run services were available to carry people between neighbouring towns. Mylon's Motorways began in 1906, running two horse drawn cabs between Albury and Wodonga. On 22 December 1922, a referendum was held to determine whether ratepayers approved of Albury Municipal Council borrowing £7,000 to implement an innovative battery-powered electric bus service to the growing area of North Albury. The proposal was defeated 377 to 61, probably due to the high cost of the project. In 1927, the first timetabled public bus service began. A 20-seat Chevrolet bus took passengers from Albury to North Albury, with a service between Albury and Lavington commencing in 1928.The routes were purchased in 1931 by Dick Martin, marking the foundation of today's Martin's Albury.
Motor coach services developed as a significant method of transport in regional New South Wales and Victoria, particularly in areas that were not directly connected by rail. One significant company was Murray Valley Coaches, started by brothers Keith and Vernon Lawrence in 1934 as an adjunct to their North West Transport Service regional freight company. The routes offered included Albury to Mildura, Mildura to Swan Hill, Albury to Swan Hill, Albury to Canberra, and Canberra to Sydney. In its day, the Sydney to Adelaide service was the longest direct bus connection in the southern hemisphere. The company also offered tours to Corryong, Mt Buffalo and local attractions such as the Hume Weir. Increasing motor car ownership led to the company going out of business in 1959.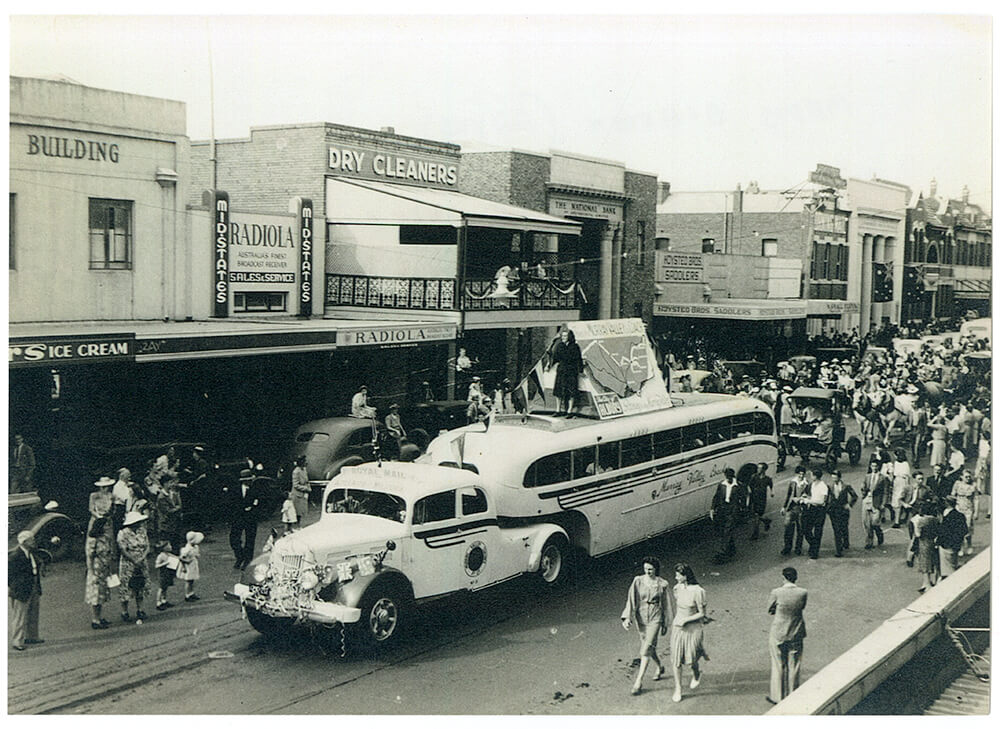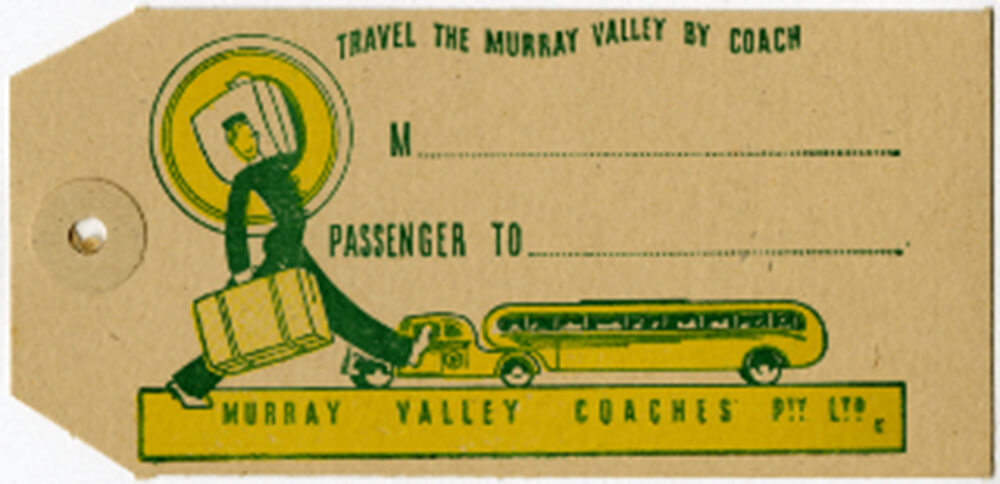 From Bicycles to Cars
Bicycles were a common and affordable form of transport in Albury at the turn of the last century. Their popularity led to the formation of the Albury Cycle Club in 1893, which held its first Great Bicycle Carnival that same year. Rallies and road races, including the 265-kilometre Dunlop Road Race from Warrnambool to Melbourne, were common.
There were several cycling shops in Albury, including Lou Harris and James Scanlan's Albury Cycle Agency. Scanlan was joined in business by a young Fred Blacklock in around 1892. Blacklock had a background as a carpenter and was among the first in Albury to own a pump-tyred bicycle. (Previously, bicycle tyres were made of solid rubber.) Scanlan and Blacklock rode to Melbourne together in 1894, a distance of more than 300 kilometres. Their locally built bicycle, first called the Scanlan-Blacklock, went on to become The Relay, which was sold regionally and across the country. They sold a range of imported bicycles in addition to the Hume Cycle, the Cameo and the Ladies Relay.
From 1905, Fred Blacklock was in business on his own, selling and repairing everything from bicycles to sewing machines and firearms. He imported Albury's first motorcycle in 1901 and first motorcar in 1905, a Minerva, which was available for hire and eventually sold. His next purchase was a De Dion car, which was used to take visiting Members of Parliament to Table Top and Tooma, potential sites for the federal capital. Blacklock began selling Ford cars in 1913. After World War I, cars were used mostly only by professional people; however, their popularity grew steadily.
Fred Blacklock's many achievements included his vice presidency of the Motor Traders Association of Victoria for several terms, and foundation membership of the Royal Automobile Club of Victoria. He died in 1930, leaving no children. His legacy lives on in the fact that motor vehicles were embraced in Albury with gusto, thanks in large part to his pioneering vision for bicycles, motorcycles and cars.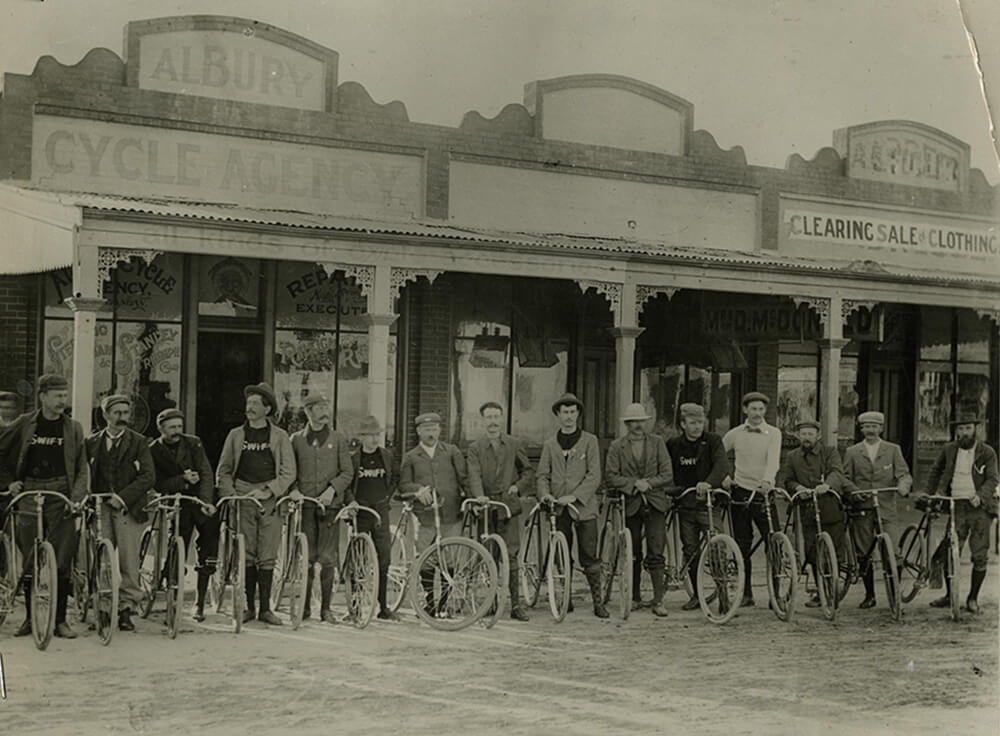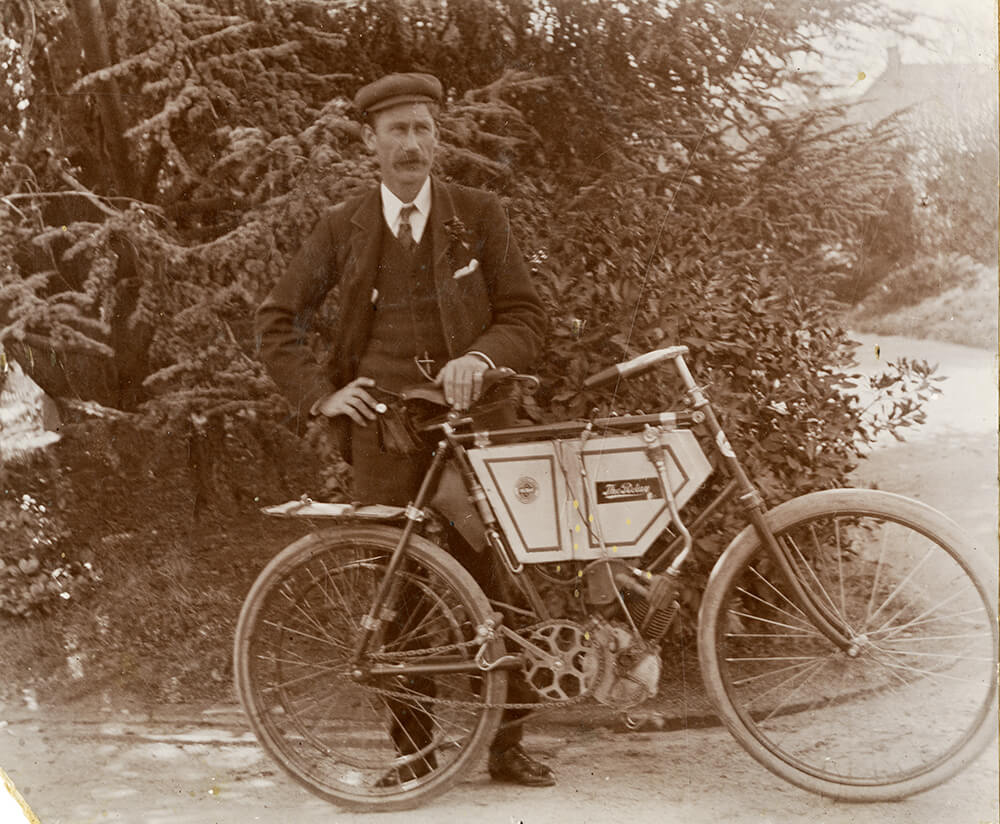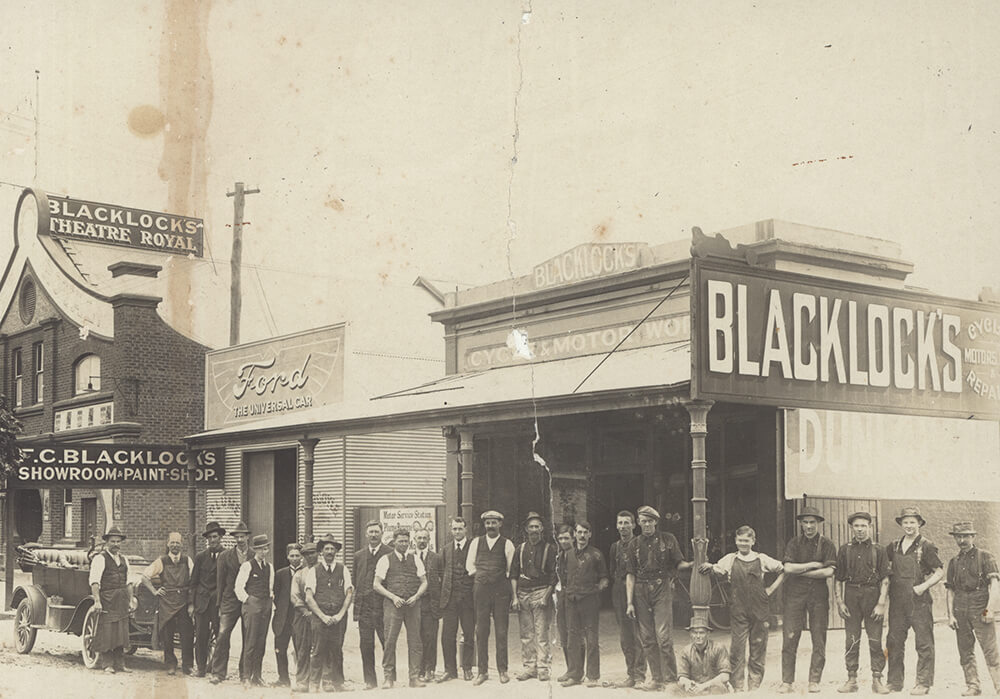 A Local Inventor
Sam Cossor was an Albury-born sheet metal worker, mechanic and gunsmith who enjoyed a prolific career as an inventor. An early invention, developed in 1914 when Cossor was only in his mid-twenties, was an acetylene gas generator. The 'Lixemall' produced a steady light and was simple to operate. A journalist from the Border Morning Mail called it 'the best that has ever come under our notice' and 'a perfect machine'. Unfortunately for Cossor, his invention was too late, as electricity came to Albury in 1916.
During World War I, Cossor spent periods in the Merchant Navy, and at the Dunlop Tyre Works and an aircraft manufacturing plant in England. Following his return to Albury, he applied his inventive mind to a number of businesses. During World War II, Cossor's inventions were designed to assist the war effort. Despite patenting his designs in Australia, England and the United States, they failed to make him his fortune.
He patented his most successful invention, a 'gripping apparatus' used to hold building materials securely, in Australia in around 1930 and it sold 4,000 units. His rotary petrol engine, four-cylinder two-stroke motor, and turbine engines all failed to make a mark in the mechanical world. Other, more quirky inventions included a system to alert a service station attendant that a vehicle's tyres were fully inflated, and a pair of button-operated tweezers for extracting foreign materials such as grass seeds from a person's or animal's throat or nose.
In spite of his obvious skill and prolific work, Sam Cossor died in 1986 without having achieved any significant success from his inventions. He said of his work, 'I should have been a millionaire, [but] my inventions have never managed to click'. Nevertheless, aspiring inventors would do well to heed his advice: 'If an invention is not simple, it is not an invention.'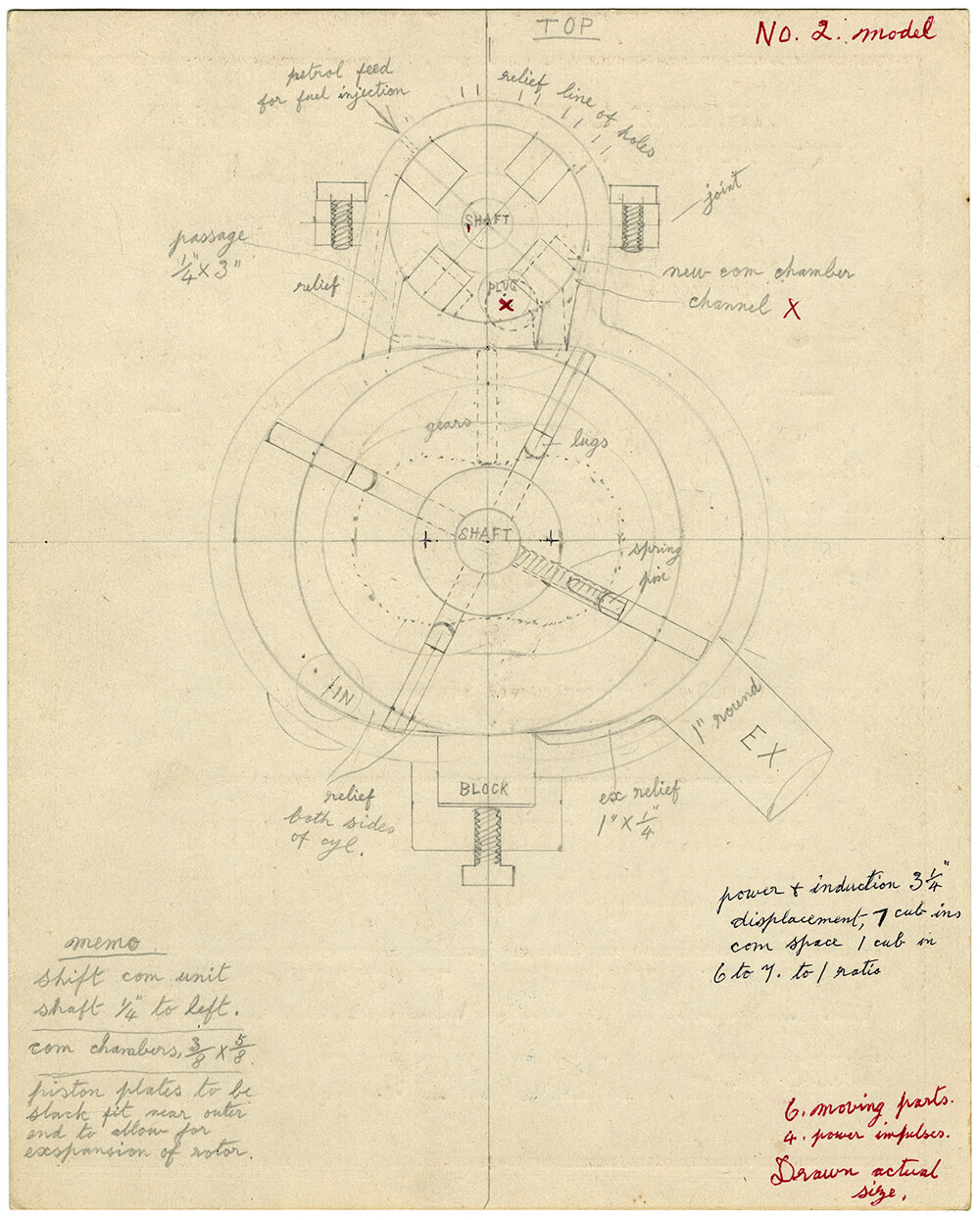 A Trip of a Lifetime
— By Nancy Sarre
In 1947, my father's great and lifelong friend Ernest G 'Jerry' Moll had suggested that he, Horace and two of Jerry's brothers, Pomp and Sandy, should travel together from Albury to Darwin by truck and train. Jerry, who was a professor of English at Oregon State University, in the United States, was on a year's sabbatical leave in Australia to complete a long poem about life in the Centre from the dawn of history and wished to get a first-hand sense of the countryside. The first obstacle they encountered was the failure of the truck they had ordered to arrive. At the last moment, Horace decided to take his Ford Model A car, which he and his family had owned since the mid-1920s.
The next thing to do was to purchase a trailer for all their provisions and camping equipment. The trailer was delivered just one day before their departure, so I guess a panic ensued! This was only two years after the end of World War II, so petrol was a problem, but with help from some friends they obtained sufficient supplies. When Sandy Moll, an engineer, arrived from Sydney, he was anxious to see the spare axle, springs and other parts that he assumed Horace planned to take. However, there were no spares and they were lucky not to have to spend any money on repairs!
On Sunday, 13 April, the party set off, driving through Wangaratta, Benalla and Shepparton, before setting up camp 20 miles (32 kilometres) past Echuca in a cold, windswept reserve near a lagoon. The next night saw them 36 miles (58 kilometres) past Mildura, at lake Coleraine. From there, they travelled through lovely irrigated vineyard areas around Renmark, Berri and Monash. At Morgan, they saw the start of the pipeline to Whyalla, a distance of about 220 miles (350 kilometres). During the five-week trip, they covered 3,760 miles (6,050 kilometres) by car and about 1,700 miles (2,735 kilometres) by train, a total of about 5,500 miles (8,800 kilometres).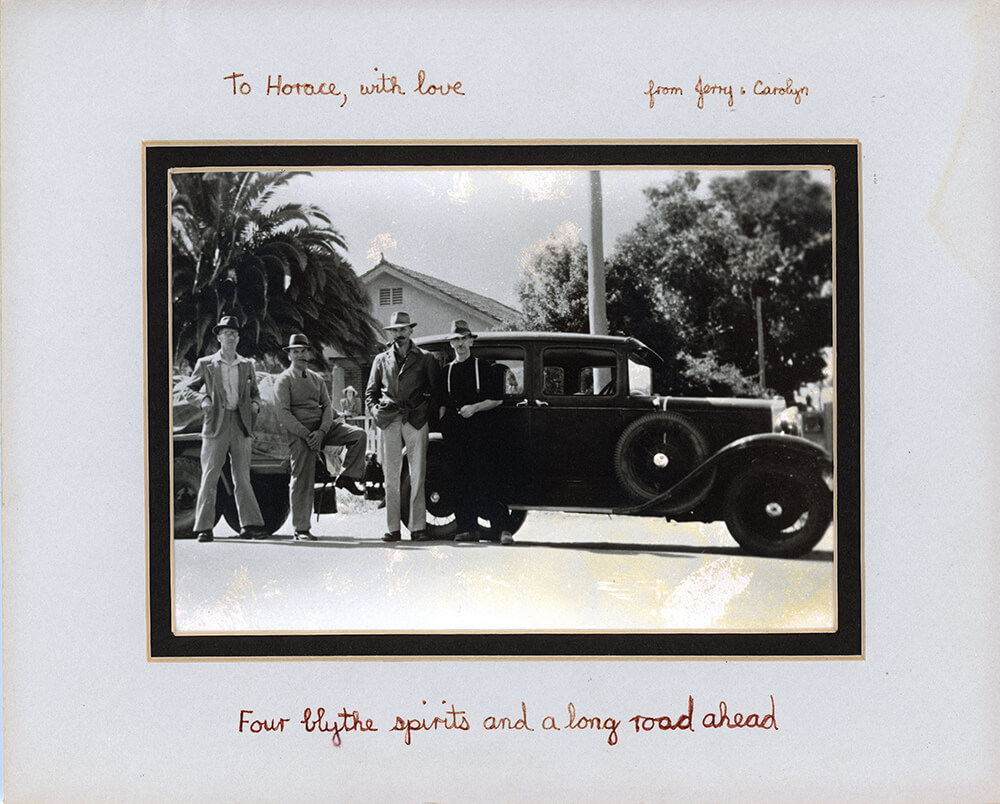 Wirlinga Circuit
Despite being in operation only from1938 to 1940, the Wirlinga car-racing circuit put Albury on the national racing map. It also had an important impact on the local area, with events bringing in large numbers of visitors.
Set up by the Riverina Sporting Car Club in 1937, Wirlinga Circuit was created as the new location for the Australian Grand Prix when increased racing restrictions in Victoria made Phillip Island unviable. Club member and local ambulance officer L. G. 'Harley' Davidson was instrumental in promoting Albury as a suitable alternative.
Davison identified a rectangular circuit of 4.219 miles (6.79 kilometres) around St John's Hill, comprising parts of the old Hume Highway and the Murray Valley Highway, Orphanage Lane and another local road. The circuit, which ran in a clockwise direction, was notable for its time, with long straights and simple corners; the challenges for drivers lay in the narrowness of the road, and the dust and crests. Wirlinga differed from most other circuits in Australia in being partly made up of main roads and therefore having some sealed sections.
Along with Mr Davison and the Riverina Sporting Car Club, many people helped support the new event, including Albury Mayor Alfred Waugh. Their work paid off when Albury staged the first inter-state Grand Prix, attracting an estimated 10,000 visitors and raising about L700 in gate takings.
The winner of the event was Jack Phillips of Wangaratta, who covered the 150 miles (241,402 kilometres) in 2 hours, 13 minutes and 15 seconds. He drove a Ford V8 at an average speed of 67mph (108 km/h), and his vehicle took off for 25 feet (8.2 metres) from the top of the rise.
While the event was held in celebration of 150 years since the colonial settlement of Australia in 1788, it was so successful that another was held in June of the following year, 1939. Within months, World War II had started, and after the third event – held in June 1940 – the race was no more. While it was the war that stopped the racing, the high speeds being reached on the roads meant the circuit could not continue to operate. Any future racing event would have to be held elsewhere, and this speed restriction helped lead to the development of the Hume Weir Racing Circuit.
Motor Racing
Australia is a sporting nation, and motor racing is an important part of our sporting history. Albury is no different: our community has had a fascination with motor racing since the earliest days of the motorcar.
Albury has been home to many races, clubs and circuits since road racing took off during the years of the Great Depression. In April 1930, a highly successful motorcycling carnival was held at Albury Showgrounds, on Young Street, with Albury man Tim Coleman setting a record time for a lap of the improvised speedway. The Albury Banner newspaper reported numerous spills and some alarming-looking smashes, but no serious injuries.
The 1950s saw the formation of the Albury and District Car Club, which was influential in developing the Hume Weir Racing Circuit in 1959. In 1965, another speedway began operating at the showgrounds on Mate Street. This race was run by an unnamed promoter from Melbourne, who disappeared after four years, ending the program.
Both the Wirlinga Race Track (1938) and the Hume Weir Racing Circuit (1959) demonstrate the early passion of Albury people for motor sports. These events attracted drivers and enthusiasts from all over Australia, pushing the boundaries of the sport and helping to put Albury on the motoring map.
The formation of the Hume Weir Racing Circuit demonstrated that the people of Albury and the wider region had accepted motor racing as the country's number one spectator sport. Motor sports evoke passionate loyalty in enthusiasts, along with a shared sense of social rebellion, emotions that saw motor vehicles being pushed to their limits over Albury-Wodonga's challenging terrain.
While regulations and wider influences saw the end of these racing circuits, the passion and enthusiasm for motor sports and racing continues to this day.
Hume Weir Racing Circuit
The Hume Weir Racing Circuit was built on the site of a disused quarry left over from construction of the Hume Dam. It was developed by the newly established Albury and District Car Club (now Albury Wodonga and Districts Car Club). The club was formed in 1954 with the intention to conduct car trials and arrange general types of gatherings for interested motorists. However, interest in motor sports developed to such an extent that it wasn't long before members' thoughts turned to motor racing.
The first race was held on 2 November 1959 on an unsealed 1.26-kilometre track. After this successful event, the track was sealed and lengthened to 1.6 kilometres a year later.
In early 1961, Gold Star champion Len Lukey approached the club with a plan to stage an international meeting in March of the same year. He and his 'Lukey Mufflers' business provided financial support to allow the amenities to be improved appropriately. Things moved very quickly, and within six weeks the track had been resealed, the Lukey Bridge and a timing box built, and grandstands with a 6,500-person capacity erected.
The event was a huge success, bringing thousands of visitors to the area, as well as international racing champions, such as the reigning Formula One World Drivers' Champion, Jack Brabham, and Le Mans winner Roy Salvadori. The club continued to develop the circuit by encouraging the best drivers to appear, and by increasing the prize money. Soon, the Hume Weir Racing Circuit had achieved prominence in Australian motor racing.
The small track was often quite dangerous. Cars would go off the track and into the trees at the bottom end of the straight going north. Motorcycle racing events were also held on the Hume Weir track. Hazards for competitors included the bumpy surface, which, by the 1970s, had grass growing through the cracks in the bitumen on the straight.
The lap record of 42.7 seconds was set by Alfredo Costanzo on 15 June 1975 during the third round of the Australian Formula Two Championships.
Events held at the Hume Weir circuit helped attract visitors to Albury. A large sponsor was former racing champion and prominent business leader Bob Jane, who at one point held 50 per cent ownership of the venue. On 27 March 1977, after 18 successful years, changing regulations governing the sport of motor racing saw the circuit close, although parts of the track were used during the Alpine Rally in the 1980s. While the track is now dilapidated, its impact persists even today.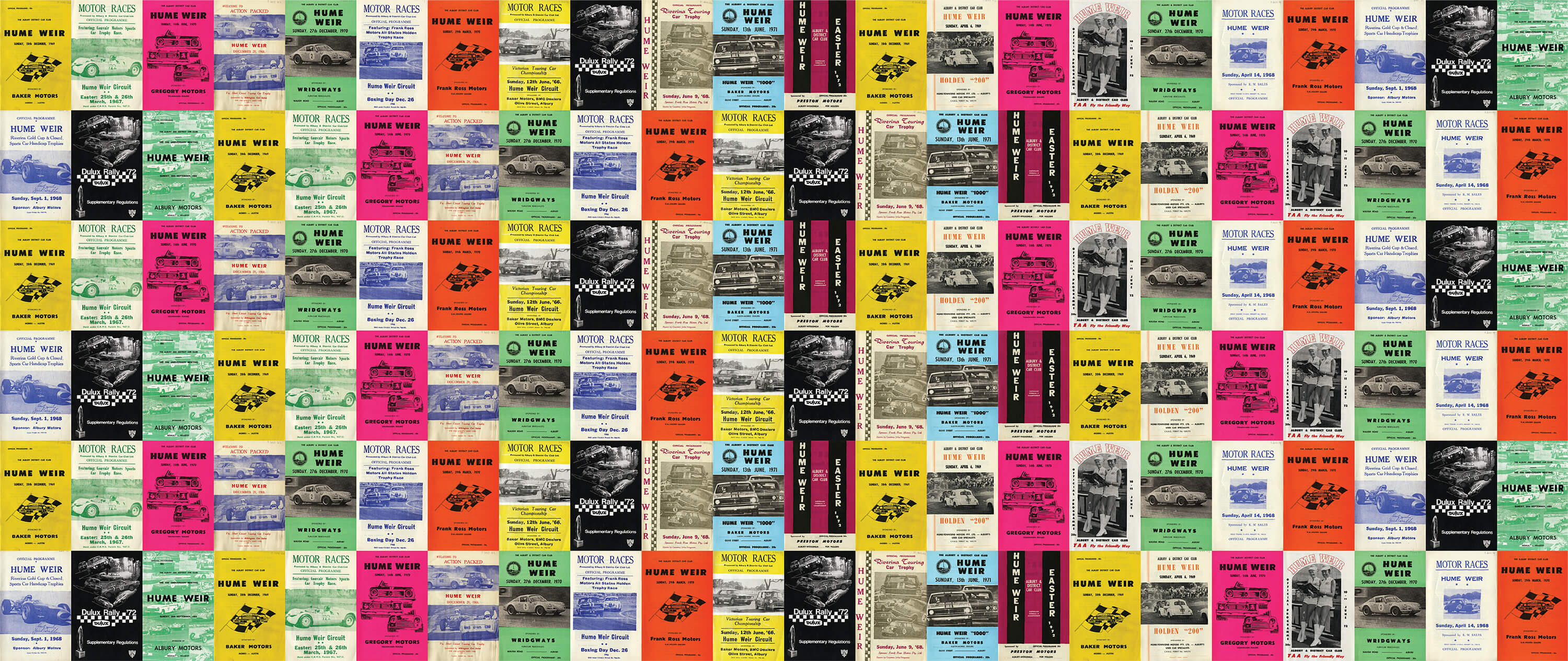 Credit: Courtesy of Albury Wodonga and Districts Car Club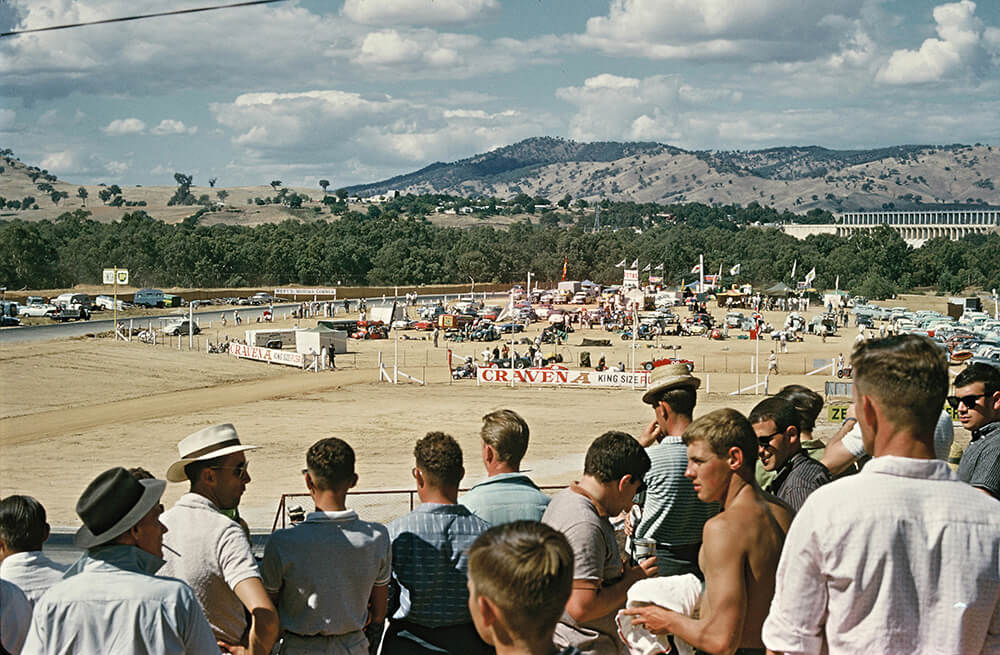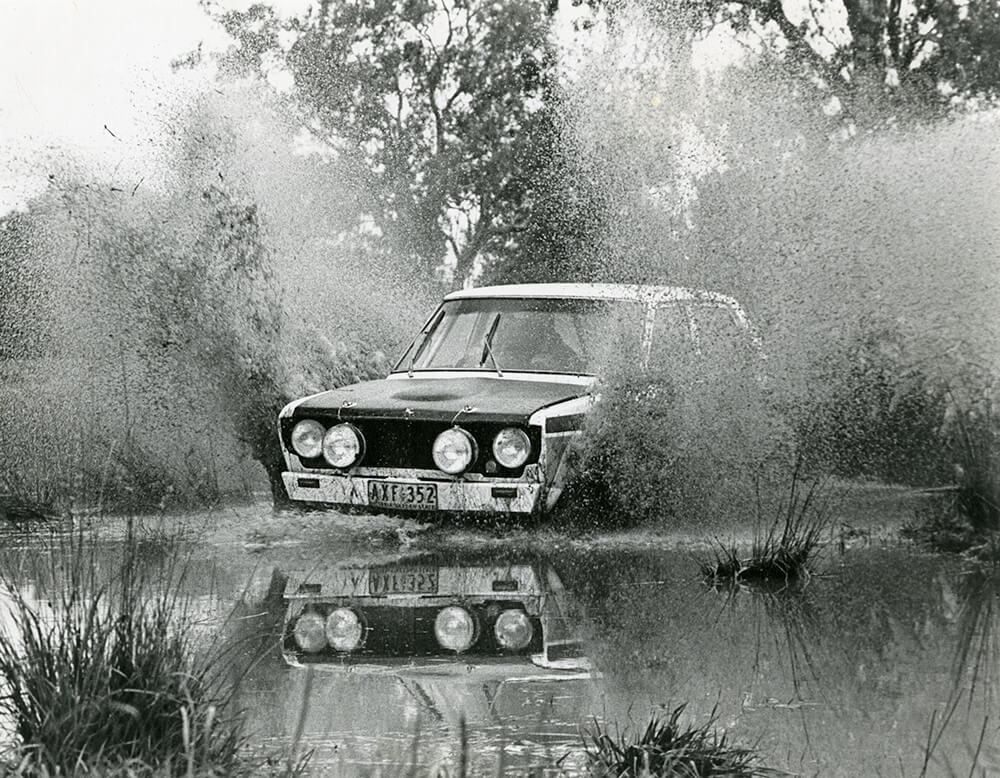 Brad Jones Racing
Brad Jones Racing (BJR) is a V8 Supercar team founded by brothers Brad and Kim Jones. With previous wins in the AUSCAR, NASCAR and Production Cars events, the brothers established their own V8 Supercar team in 2000. Located in Albury, it is the only team of its kind to be based in a regional centre.
Brad Jones Racing is the only team to run in every national V8 Touring Car category, with three cars in the Supercars Championship, three in the Dunlop Super2 Series (development category) and one in the Kumho V8 Touring Car series. They have won races in each category, which is an outstanding achievement for the country-based team.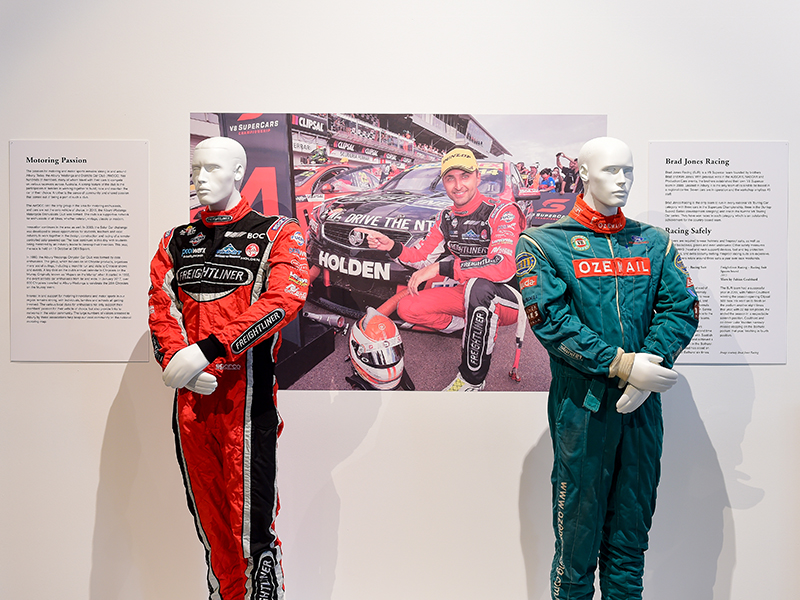 Transmission Plant, Kaitlers Road, Lavington
Borg-Warner opened its manufacturing plant at Lavington in October 1971 after shifting its operations from Sydney. By 1982 the plant was employing 1,251 people from across the Border, making it Albury-Wodonga's largest employer.
Borg-Warner trained hundreds of apprentices, supported many local suppliers and businesses, and actively sponsored local clubs and sporting teams. The social club at Borg-Warner staged golf tournaments, functions and fondly remembered family days.
BTR Nylex purchased the plant in 1987, changing its name to BTR Automotive. The plant operated successfully for 15 years, making die cast aluminium transmissions for Ford, Chrysler and Ssang Yong.
In 2002, ION Limited purchased the Lavington site. Two years later, ION's parent group collapsed. Administrators kept the plant running with staff and shift cutbacks.
In 2006, the site was purchased by Drivetrain Systems International (DSI), which was then itself purchased in 2009 by Geely Automotive, a Chinese manufacturing company. Geely had contracts with Ssang Yong and Mahindra in the emerging markets of Korea and India, and these contracts allowed the Lavington site to re-establish its previously dwindling workforce.
In 2014, it was announced that the DSI plant at Lavington would close permanently.
During all its various incarnations, design innovation featured heavily at the transmission factory. A wide variety of new gearbox designs were developed, including Borg-Warner's continuously variable transmission, which allowed smooth gear adjustments, transmissions for London's famous Black Cabs, and the four-speed torque converter automatic transmission specially built by BTR Automotive for the Maserati 3200 GT.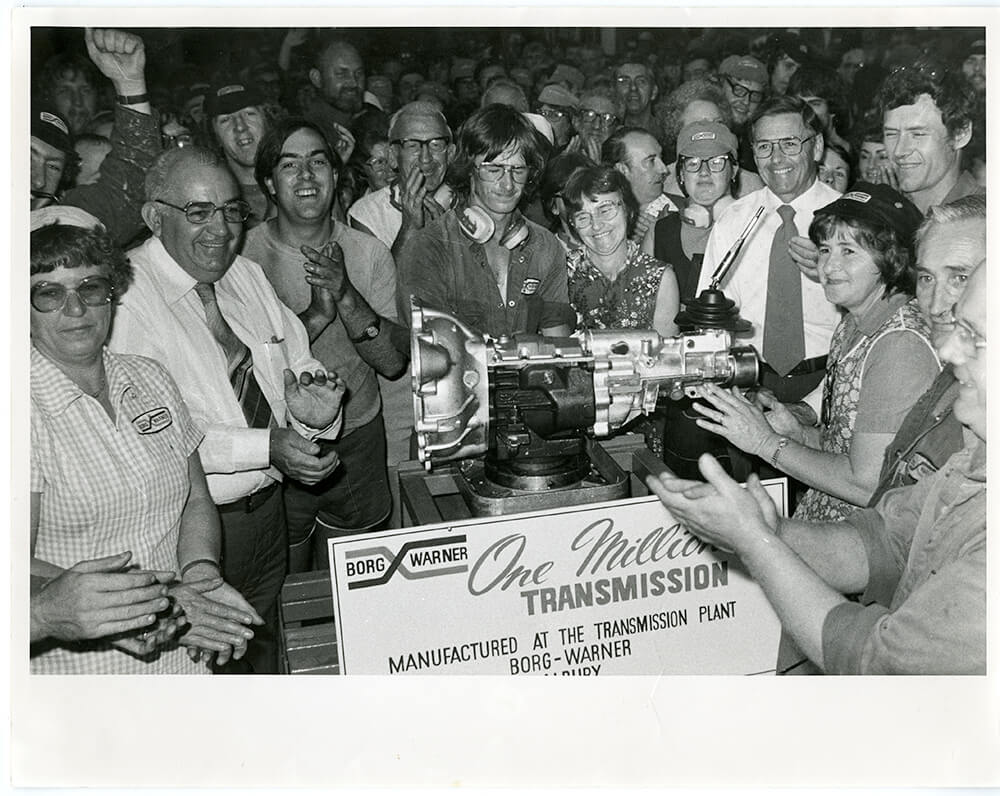 Motoring Passion
The passion for motoring and motor sports remains strong in and around Albury. Today, the Albury, Wodonga and Districts Car Club (AWDCC) has hundreds of members, many of whom travel with their cars to compete on various raceways across Australia. A strong feature of the club is the participation of families in working together to build, race and maintain the car of their choice. Another is the sense of community and shared passion that comes out of being part of such a club.
The AWDCC isn't the only group in the area for motoring enthusiasts, and cars are not the only vehicle of choice. In 2015, the Albury Wodonga Motorcycle Enthusiasts Club was formed. The club is a supportive network for enthusiasts of all bikes, whether veteran, vintage, classic or modern.
Innovation continues in the area as well. In 2003, the Solar Car challenge was developed to create opportunities for students, teachers and local industry to work together in the design, construction and racing of a remote-controlled solar-powered car. The race continues to this day, with students being mentored by an industry leader to develop their invention.
In 1990, the Albury Wodonga Chrysler Car Club was formed by local enthusiasts. The group, which focuses on all Chrysler products, organizes many social outings, including a monthly run and visits to Chrysler shows and events. A key date on the club's annual calendar is Chryslers on the Murray. Originally known as 'Mopars on the Murray' when it started in 1992, the event attracts car enthusiasts from far and wide.
Interest in and support for motoring innovations and motor sports in our region remains strong, with individuals, families and schools all getting involved. The various local clubs for enthusiasts not only support their members' passion for their vehicle of choice, but also provide links to networks in the wider community. The large numbers of visitors attracted to Albury by these associations help keep our local community on the national motoring map.