The Murray Cod is a fish of great significance, it is the largest exclusively freshwater fish in Australia residing in the largest river system in the land. For millions of years Murray Cod have dominated the waters of the Murray Darling basin, Fossils have been found from about 26 Million years ago and many indigenous creation stories describe a giant Murray Cod who originally carved the Murray River in a time before time.
Since European settlement, wild populations of Murray Cod have declined massively to the point of them being listed as endangered, largely due to commercial exploitation and human intervention with the river.
In the story of human interaction with this fish and the rivers there are many lessons to be learned about our relationship with the environment that supports us.
About Tobias Bennet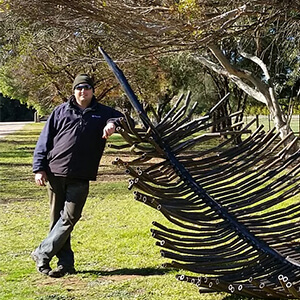 Tobias Bennett is based in Leeton NSW. Tobias has been sculpting in steel since 2009 and now creates sculptures for private and public display that explore and sometimes combine both figurative and abstract forms. Drawing much of his inspiration from the natural environment and human folklore Tobias greatly enjoys the challenge of repurposing and reshaping steel into new forms, taking a raw material and transforming it into an engaging piece of artwork that excites the imagination of the viewer.