With a very active 2019 for AlburyCity drawing to a close, I'd like to take the opportunity to review the successes we've achieved together this year and also look towards some of the great things coming up in 2020.
Our community's energy and passion is always a driving force in the growth and development of our city and for Australia Day 2019, we recognised just some of those quiet achievers who've helped to shape our city by naming our citizens and volunteers of the year. I'd like to thank each and every one of those recipients for doing so much for their community.
In February, we sought public feedback on a long-term strategy for the Borella Road/Riverina Highway corridor and once we again we had some fabulous input. Thanks to that feedback, the strategy is in full swing, helping to ensure we'll be ready to meet the demands of a growing population to the city's east.
Also as part of our focus on the future, we began the process to create a more modern and streamlined management system at council when we undertook a major review of the organisation's leadership structure. That new structure is now in place and is delivering a strategic overview of how we can continue to work together to make Albury an even better place to live, work and invest.
A major upgrade of the taxiways at the Albury Airport began in February, delivering the infrastructure to meet growing demand for passenger services and airside business growth and in March we were pleased to announce the new oval at the Lavington Sports Ground would be ready to host its first cricket matches in spring.
One of our most important ongoing projects is the Murray River Experience which will enhance our beautiful river foreshore for locals and visitors. In March, an important step was taken when we started work on major parking improvements at Noreuil Park and a month later, thanks to funding support from the NSW Government, we opened the redeveloped Oddies Creek Play Space, which has provided countless hours of fun to local families. We're looking forward to more exciting developments in this area in 2020.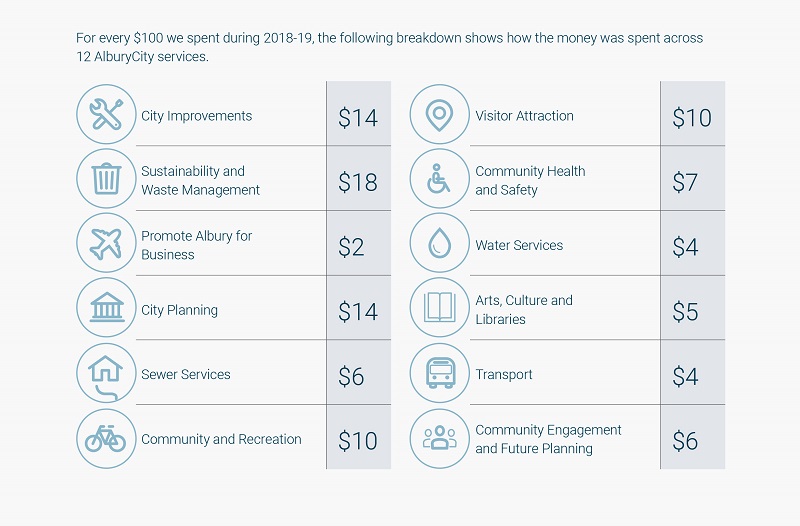 In April this year, our councillors endorsed our 2019-20 Draft Budget – a blueprint for exciting developments in our city, including $58M in capital works programs. Projects and improvements flowing from the budget are continuing to roll out across the city.
Community consultation continued to be at the core of our work and in May we teamed up with residents and police to identify our worst streets for speeding so that safety could be improved for pedestrians and road users.
Our central narrative pillars at AlburyCity are built around "People, Place and Progress" and in May, as part of our mission to 'look after our place', we began a major restoration of the river bank at Oddies Creek by removing willows and other weeds and creating new habitat for wildlife.
Working with other agencies is always a priority and in July we were excited to formally enter into a partnership with Charles Sturt University and TAFE NSW to build a framework for the growth of the local knowledge economy.
Also in July, we teamed up with our netball community to open the redeveloped J.C. King Park, ensuring thousands of local and regional players will have a modern and dynamic home for their sport in the years ahead.
Community safety is central to everything we do and after feedback from Lavington residents, our councillors voted in August to investigate the possibility of installing CCTV cameras in Lavington. We'll continue to work with police and the community on that important topic.
Albury prides itself on being a leader in protecting and supporting the environment and the opening of the Albury Renewable Energy Hub at our waste management centre in August literally powered us forward into the modern energy age.
In September, we acted on road safety concerns raised by the community at Glenroy, and began a major program of traffic and road improvements, with those changes now completed and the risks to motorists and pedestrians reduced.
Spring is always a time for new growth and we were delighted this year to launch our first-ever Gardenesque festival in the Botanic Gardens. It was a hit with green thumbs and the simply curious, and we look forward to Gardenesque literally blooming in the years ahead.
Sadly, spring did not bring an end to the dry conditions of winter so in October we joined forces with North East Water and Greater Hume Shire Council in a water wise campaign, aimed at preserving every precious drop of water available to us. The campaign is ongoing, and we thank householders and business owners for doing their bit to cut our water consumption.
Also in October, we began a city-wide switch to LED street lighting which will significantly reduce operating costs and our carbon footprint, while in November, we celebrated the opening of the South Albury Active Space which has provided fantastic new opportunities for beach volley ballers, basketballers, skaters and those looking for a workout in an attractive and accessible environment.
Our partnership with Wodonga Council under the Two Cities One Community initiative continued to drive a new era in cross-border co-operation throughout the year and in November, we were delighted to celebrate the 100th anniversary of commencement of the Hume Dam's construction when we unveiled signage telling the story of an engineering marvel right here on our doorstep.
We also continued our partnerships with the state and federal governments through co-operation on major infrastructure projects that will unlock the potential of the Nexus Industrial Hub at Ettamogah to become a 24/7 powerhouse for the local economy. Those works are ongoing and we look forward to more good news on those jobs enabling projects and including leveraging our Two Cities One Community partnership more fully in 2020.

We're proud to lead the way in waste management practices and in December we were honoured on behalf of a supportive community to receive an Excellence in Environment Award for our high rate of resource recovery, which is keeping thousands of tonnes of valuable recyclable products out of our landfill.
We're looking forward to even more important environmental achievements at our Waste Management Centre in 2020, including the opening of a new education centre that will build upon our region's already-impressive waste-wise credentials.
This centre will be just one important development in 2020. Among other significant plans for the year are the development of an visitor education and experience centre at Wonga Wetlands, ongoing work on our riverside precinct plans – including boardwalks and better river access, the completion of the Monument Hill redevelopment, the continuing re-construction of the Lavington Sports Ground, progress on the detailed design of the Regional Skate Park in David Street, and the extension of the Wagirra Trail through beautiful riverside bushland.
These are just some of the improvements on the way and we look forward to continuing these works with the support and advice of our community.
So, as we prepare to farewell 2019, I'd like to once again thank all our people, Councillors, volunteers, contractors, community partners and wider community who have contributed their great work, energy, enthusiasm, thoughts, ideas and feedback and to wish everyone a very merry Christmas and a happy and safe new year.