Dabaa.malang Guyulgang
Dabaa.malang Guyulgang is the inaugural exhibition of Laneway Lightbox Open-Air Gallery. Launching during NAIDOC Week 2023, it features local female First Nations artists Glennys Briggs, Teisha Maksymow-McGuiness, Patricia Cerminara and Brittany Wright (AWAHS Koori Women's group). The artists explore uneasy narratives, unravel displacement and trauma, and discover cultural heritage that has existed throughout time, in search of ways to healing and self-strengthening. The storytelling through dynamic visual languages brings us to the journey of resilience while stressing the role of knowledge sharing. Dabaa.malang Guyulgang means 'enduring and strong mob' in Wiradjuri language.
---
Yellow Space (Dean Street End)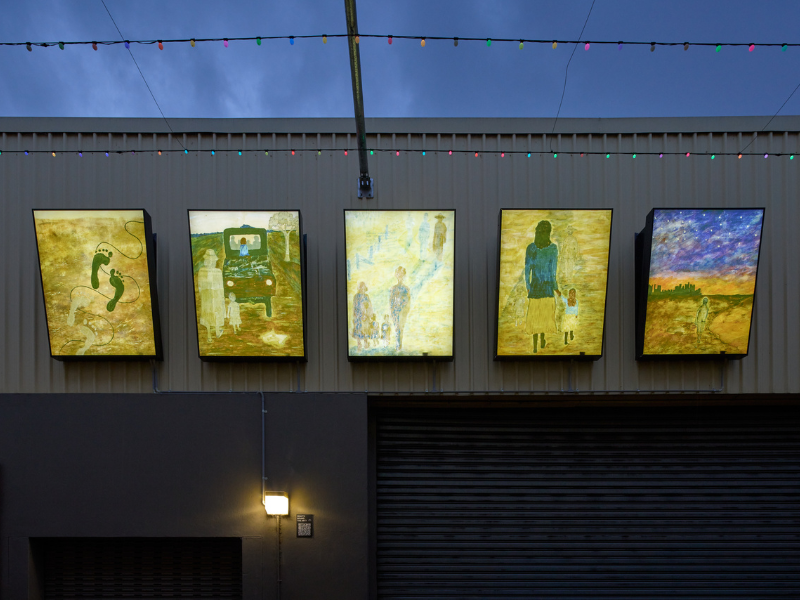 Installation view of The Walk Off, by Glennys Briggs. Photo credit: Jeremy Weihrauch.
The Walk Off
by Glennys Briggs
The Walk Off is a body of work by Taungurung, Yorta Yorta and Wiradjuri artist Glennys Briggs. It reimagines a mass strike she heard from her grandmother against Cummeragunia Aboriginal Reserve situated in Yorta Yorta Country on a bend in the Murray River in New South Wales. The Reserve had controlled First People's life in dreadful living condition since its foundation in 1888.
Being forced to live in the Reserve where cultures and languages are forbidden, First Nations people experienced displacement, cruel treatment, starvation, a lack of medical care and miserable housing condition. On 4th February 1939 came the first strike when they moved across the Murray River to Victoria and set up living the banks of the Goulburn River in small makeshift housing. The grandmother of Aunty Glennys is amongst many people there.
The song they sang as they left was Burra Ferra, the lyrics of which can be seen on one of the paintings. Learned from black American Gospel singers and transposed into Yorta Yorta, this song references freedom from the oppression.
Learning about stories told by grandmothers, mothers and aunties, Aunty Glennys reveals the courage and resilience First Nations women had held to fight for their families. By interpreting the walk off in a dream-like approach, she brings us to a psychic state of the event in exploration of family strengths informing her personal identity.
About the artist:
The art practice of Glennys Briggs spans printmaking, painting, possum skin cloak making and sculptural pieces. Her work is based around her strong cultural connection to her country and people. Like a time-lapse photograph, her work is ever-changing to reveal the long and sometimes dark histories of this shared country.
---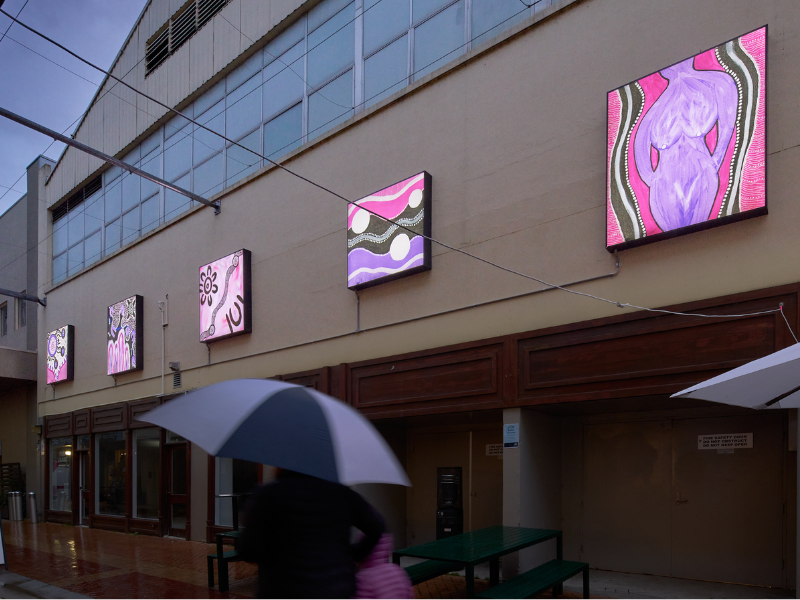 Installation view of Matriarchal Strength, by Teisha Maksymow-McGuiness. Photo credit: Jeremy Weihrauch.
Matriarchal Strength
by Teisha Maksymow-McGuiness
The five paintings explore matriarchal strengths from the lived experience of Teisha Maksymow-McGuiness and that of people she met through her work and life. Teisha is a proud Wiradjuri and Yuin woman and mother of four. She also works as a Counsellor of the Dhelk Dja Program at Albury-Wodonga Aboriginal Health Service (AWAHS).
In Matriarchal Strength, Teisha incorporates symbols of women, people sitting, waterways, kangaroo tracks, mountains, etc., foregrounding the continuous feminist power lies in aboriginal communities. It has no start or end, but is passed on through generations. Each Aboriginal woman possesses matriarchal strengths on a level deeper than flesh. The artworks symbolise and celebrate resilience, tenacity, respect, wisdom, empathy, compassion and courage it takes for women to thrive and be the matriarchs of their families.
About the artist:
Teisha Maksymow-McGuiness is a Wiradjuri and Yuin artist who works predominantly on paintings. The act of painting heals parts of her that have previously been suffered from traumatic experiences, so art practice is a very intimate process for her. One of her recent commissions is an artwork for AlburyCity's Reconciliation Action Plan.
---
Charcoal Space (Smollett Street End)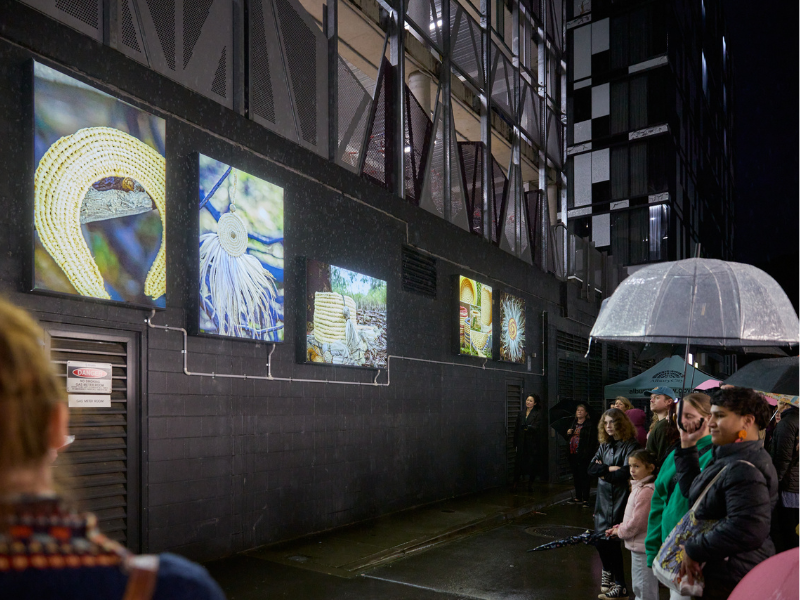 Installation view of Threads of Resilience: A Journey Woven by the AWAHS Koori Women's Group, by Brittany Wright. Photo credit: Jeremy Weihrauch.
Threads of Resilience: A Journey Woven by the AWAHS Koori Women's Group
by Brittany Wright
Threads of Resilience is a series of photographic work led by Ngarrindjeri woman Brittany Wright. It presents a powerful and heart-warming story that follows the weaving journeys of the AWAHS Koori Women's Group, an indigenous community of women who rediscover their cultural heritage and find strength through the art of weaving.
Their story begins by introducing a diverse group of women from the AWAHS Koori Women's Group all of whom have faced their unique challenges, including intergenerational trauma, displacement, and cultural disconnection. Under the guidance of Elder Aunty Edna Stewart and Brittany Wright, the women embark on a weaving journey that transcends the physical act of creating complex patterns. Each participant is encouraged to connect with their personal stories and emotions, weaving them into their artwork as a form of self-expression and healing.
As the members gather for regular weaving sessions, their stories intertwine and unfold, revealing the struggles they have faced in a society that often overlooks their voices. They explore themes of identity, loss, resilience, and the enduring power of community. Through the process of weaving, they not only discover a renewed sense of pride and belonging but also develop strong bonds of sisterhood and support.
The story also evolves into the history and significance of weaving in Aboriginal culture, highlighting how the act of interlacing threads symbolises the interconnectedness of all aspects of life. The group learns about the importance of passing down this traditional knowledge to future generations, ensuring the survival and celebration of their cultural heritage.
Threads of Resilience is a touching and inspiring tale that explores the intersecting threads of personal healing, cultural heritage, and community strength. It celebrates the power of art and storytelling as tools for empowerment and offers a profound reflection on the transformative journey of the AWAHS Koori Women's Group as they weave their way towards healing, resilience, and a brighter future.
About the artist:
Brittany Wright has been working with been working with Albury Wodonga Aboriginal Health Service (AWAHS) since 2016. She is dedicated to making a positive impact on the health and well-being of Indigenous communities. With a strong foundation of knowledge, skills, and experience, she strives to be an advocate for culturally appropriate health promotion and empower individuals to lead healthier and happier lives. Beyond her professional endeavours, Brittany has a keen interest in photography. She participated in the AWAHS and Wodonga TAFE pilot Mubal and Bali Program, where she engaged in a short course focused on capturing, editing, and printing images. This experience allowed her to refine photography skills, and the works were proudly exhibited in the Eddie Kneebone Gallery as part of the NAIDOC Celebrations in 2021.
---

Installation view of Nan's Bush Tucker Stories, by Patricia Cerminara. Photo credit: Jeremy Weihrauch.
Nan's Bush Tucker Stories
by Patricia Cerminara
Nan's Bush Tucker Stories interweaves family stories shared with artist Patricia Cerminara by her great grandmother and her grandmother. Patricia transforms these intimate narratives that have been passed down through generations into visual representations featuring vibrant colours and intricate details.
1. Dream Time Murrnong (Yamm Daisy) story
Nan Said in the Dreamtime fire had been a carefully guarded secret. There were chosen women who carried live coals on the ends of their digging sticks, that let them cook murrnong yams. One day a cooked yam was found by the wise old crow and, finding it tastier than the raw vegetables he had been eating, he thought this is how he would cook his food from then on. The chosen women refused to share their fire with him, and crow resolved to trick them into giving it up. The story continues and the crow steals the yam but ends up creating a bushfire.
Our nature spirits would cure the land. In the next weather cycle the beautiful Murrnong would grow. As you look across the bush, you could see them dancing in the breeze.
2. Great Nans' Kurrajong Dreaming
My great grandmother lived with our family along the stock routes in Yenda. Stories of her younger days in Mungindi in Queensland have always inspired my artwork. She always talked about the Kurrajong tree and its beauty:
The fibrous kurrajong bark was used for making string for fishing lines, nets, baskets, and bags, as well as body adornments such as headbands. The flowers turn to fruit in the form of leathery pods. The seeds of the Kurrajong may be eaten when roasted, either ground into a flour or consumed without change. The flowers and roots may also be eaten. The strong fibrous bark can be stripped and left to soak in water for several weeks. This allows the fibres to be separated easily, so that it can then be woven or spun as required.
Now I tell Kurrajong stories to my children and grandchildren as I understand great nans' connection to this beautiful tree.
3. Dirramaay (Chocolate lily) Dreaming
Nan would see it growing in native grasslands and open areas in woodlands and forest where there is full sunlight or dappled shade. It adds and enriches the ground habitat and is found with other lilies, native herbs, and orchids. People ate the tubers from the nodding chocolate lily, and they were best eaten after they had been roasted on the campfire. Digesting flowers helped to cleanse the blood.
Chocolate lily's flower colour and rich sweet scent is a magnet for native bees, moths and butterflies. I have smelt and ate some of these Chocolate Lilies. One can really smell the chocolate from the flowers, just amazing our bush tucker and people, just amazing!
4. Bush Orchid Dreaming
Bush Potato Orchid is circled by groups of camps while they are digging out the plant with a digging stick. It is an Australian native bush plant, that belong to a small group of leafless non-green orchids. Nan said they were rich in starch, and the taste of the plant was like beetroot but watery. Her mother would roast them in the campfire and then she would eat them.
5. Dream Time Murrnong (Yamm Daisy) story II
Murrnong occurs in many oral traditions as part of Dreamtime stories.
The edible tuberous roots were once an important source of food for Aboriginal people in Australia. Women would dig for roots with a yam stick and carry the roots away in a dillybag or rush basket as these were used in the cooking process. After being washed, tubers were put into a rush basket, which was placed on an earth oven. Tubers would roast, half melting into a sweet dark syrup.
The earth ovens were made outside the camps by digging holes in the ground, plastering them with mud, and keeping a fire in them till quite hot, then withdrawing the embers and lining the holes with wet grass. The roots are put into baskets, which are placed in the oven and covered with more wet grass, gravel, hot stones, and earth, and kept covered till they are cooked. This was done in the evening. Many families lived together, and each family came the next morning and removed the baskets of food for breakfast.
When Nan told us the story, she said it made her mouth water.
About the artist:
Trish is a proud Gamilaroi woman born in Griffith in NSW and grew up in Yenda. As part of the resettlement, and the railway repatriation project her family was moved from Yenda to Jerilderie to Finley and then to Albury, where she has lived for 50 years. Trish loves taking people on her cultural journeys through art. By having self-confidence and spiritual meaning her work shows her connection to country.
---
Laneway Lightbox Open-Air Gallery is a public art initiative launched by AlburyCity, presenting lightbox installations along Amp Lane close to Albury's cultural precinct. It is an ongoing program with rotation of artworks every four to six months. Each exhibition brings together creative and bold ideas. By stretching the limit of where and how art is consumed, it aims to open up meaningful conversations in a wider audience for social changes.