In 1940, Albury's 2AY radio station produced a recipe book of "very excellent recipes" sent in by members of the Harmony in the Home Club. The years of World War II had been challenging, but Jean Cleary, Helen Burnett and others from the club hoped that proceeds from the sale of the book would "bring Christmas cheer to many folk, young and old, in hospitals and orphanages" and that the year ahead would bring unexpected joys, fulfilled wishes and peace to all.
Contributing cooks were acknowledged by playful monikers like "Caravan Lady", "Bonnie Lass", "Laughing Eyes" and "Daisy Bell", and the recipe book contained poetry to lift the wartime spirits, including Call to Service and Help us to Victory.
Alongside recipe titles we may now find unappetizing, like Savoury Bloater Biscuits, Onions Stuffed or Vinegar Sponge Sandwich, are many gems to interest the aspiring chef.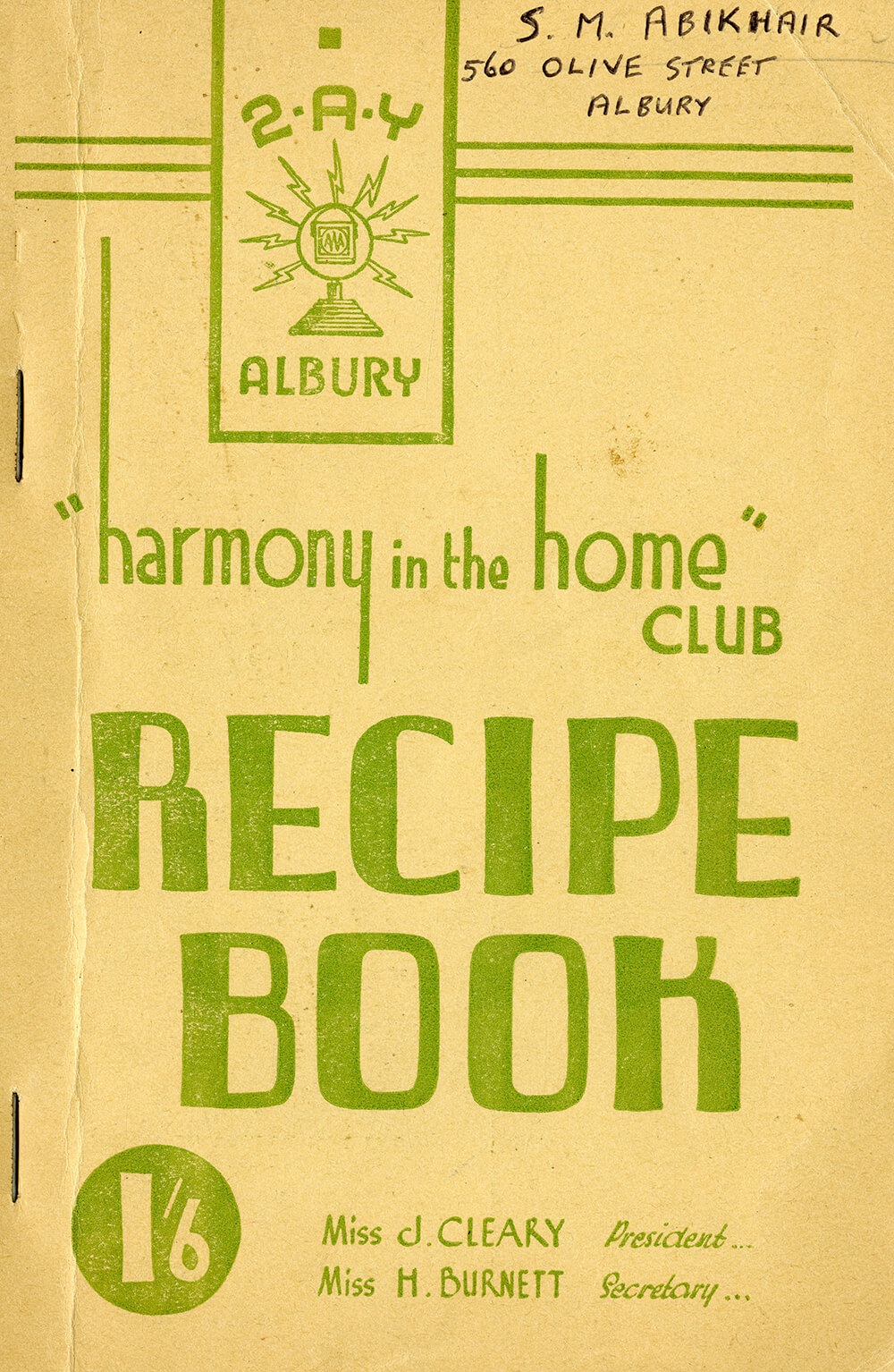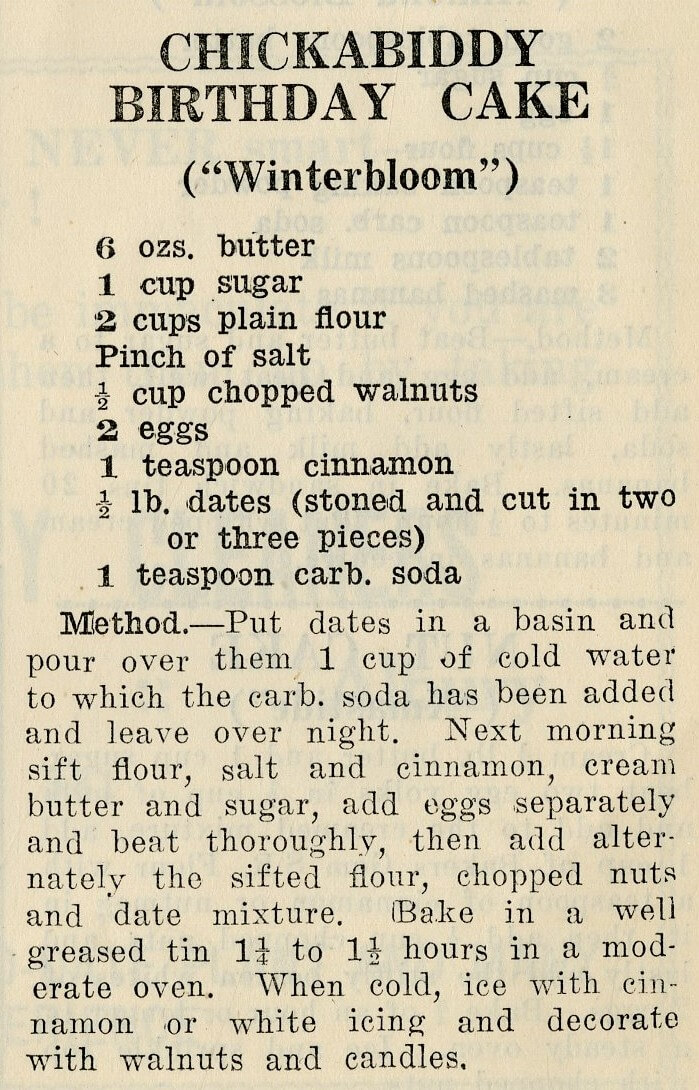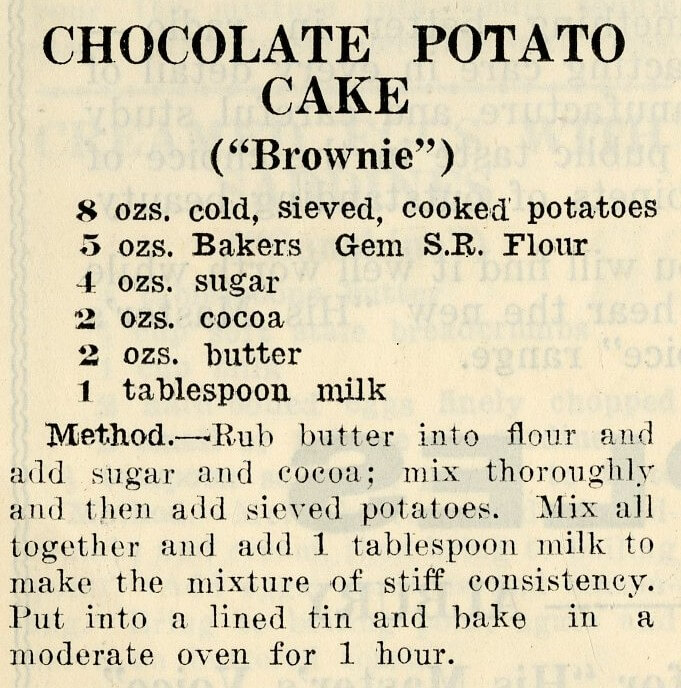 star star star_half star_border star_border
"The potato brownie, well…. It was a little bit weird. I had to put icing on it to make it taste a bit better. While it was cooking, I could smell a combination of potatoes and cocoa, and I haven't rubbed butter into flour since about Year 12 Home Economics classes!"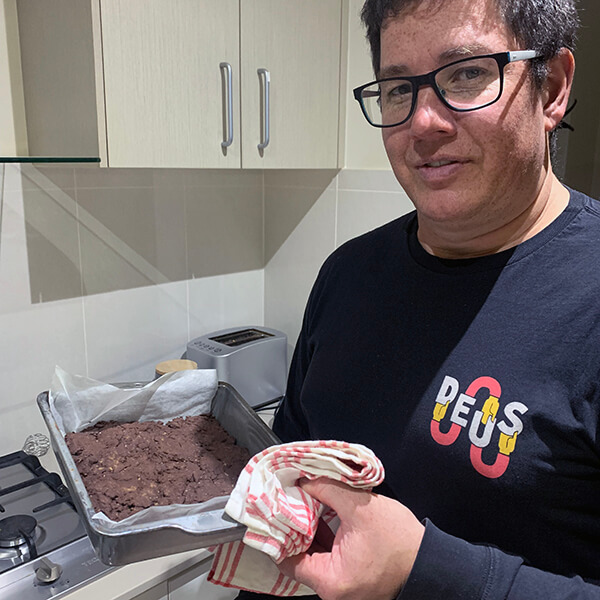 Sonja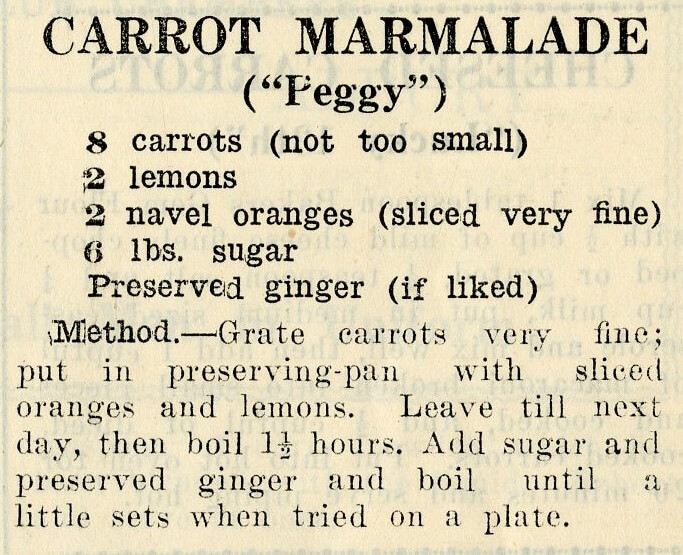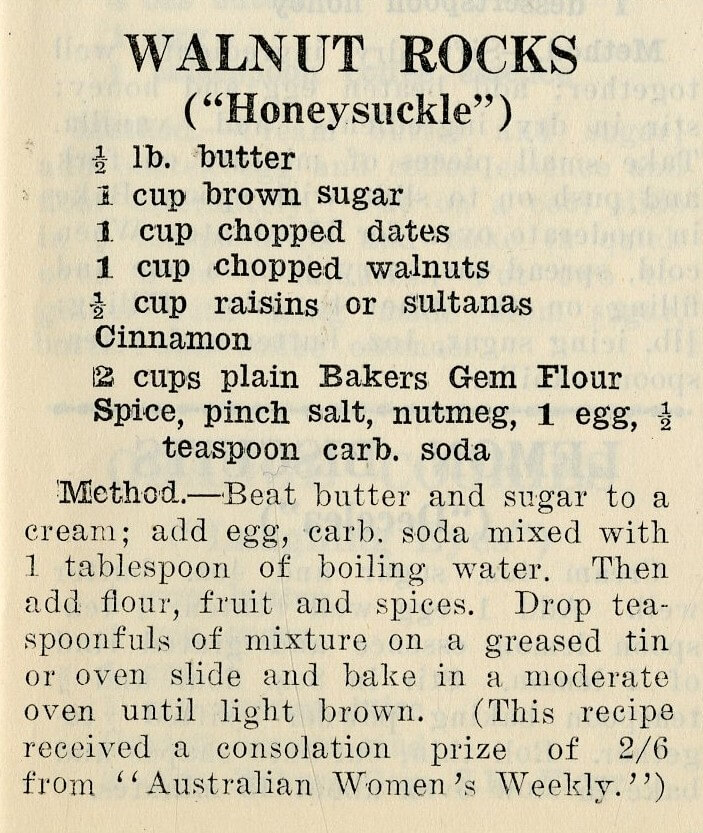 Vintage Cooking Terms
Bakers Gem flour

Once produced by Albury's Hume Flour Mill. Substitute with plain flour.

Bloater paste

A fish spread made from salted, smoked herrings called "bloaters".

Bran

The hard outer layers of cereal grain.

Carb soda

Bicarbonate soda or baking soda.

Dripping

The fat that has come out of meat during cooking.

Ground rice

Coarsely ground rice, as opposed to rice flour.

Lard

Semi-solid white fat from pig meat.

Moist sugar

Unrefined or partially refined sugar. Substitute with brown sugar.

Shortening

Any fat that is solid at room temperature.

Sour milk

Mix 1 cup of milk with 1 tablespoon of white vinegar or lemon juice.

Suet

Hard white saturated fat from around cow or sheep kidneys.

Tomato pulp

Made from blanched and deseeded tomatoes. Substitute with passata.

Treacle

Lighter type of molasses. Substitute with golden syrup or molasses.
Conversion Table
| | |
| --- | --- |
| Pint | 570ml or 2 cups |
| Quart | 1 litre |
| Ounce (Oz) | 30 grams |
| Pound (Lb) | 450 grams |
| Teacup | ¾ of a cup |
| Wineglass | ¼ of a cup |
| Gill | around ½ a cup |
| Moderate oven | 180 °C |