About this project
The Albury Riverside Precinct is one of the four major projects we are delivering in partnership with the NSW Government under the Regional Growth Environment and Tourism Fund (RGETF). All projects improve our connection with the Murray River and will be ready for us to enjoy by mid 2021.
This project will transform a section of the river behind the Albury Swim Centre at Hovell Tree Park and will change the way both residents and visitors interact with the Murray River and its surrounding open space. The scope of works for the project includes the development of the following public infrastructure:
A boardwalk along the river
Jetty access and a mooring point
Formalising access to the river in specific areas
BBQs and picnic facilities
Built shade structures
Better car parking
Improved links with the Wagirra Trail, CBD and Hovell Tree Park.
This project is currently in the detailed design phase. A series of approvals will be required following the detailed design. Construction is expected to commence early in 2021.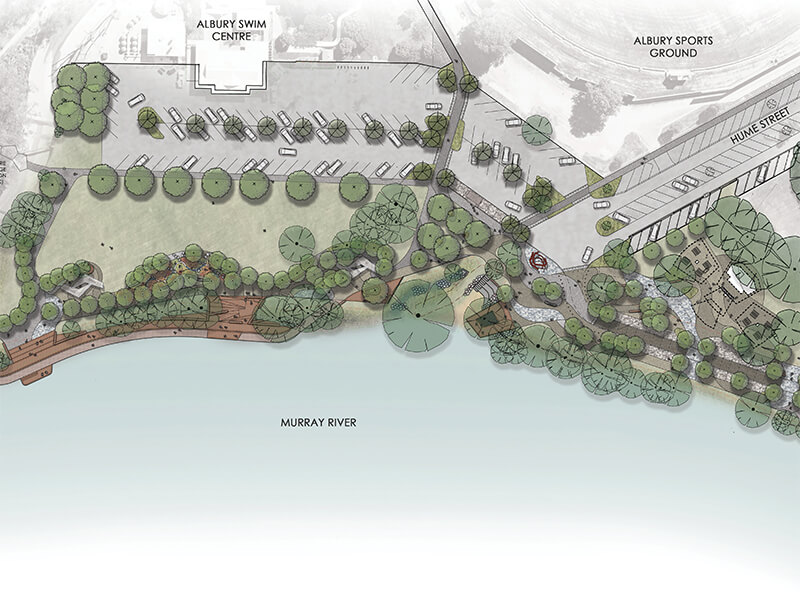 Council has included funding for the construction phase in the 2020-21 budget. The funding proposed is:
$3,900,000 - 2020-21 (Stages 1 and part 2a)
$2,180,000 - 2021-22 (Balance Stage 2a and 2b)
$490,000 - 2022 - 23 (Stage 3)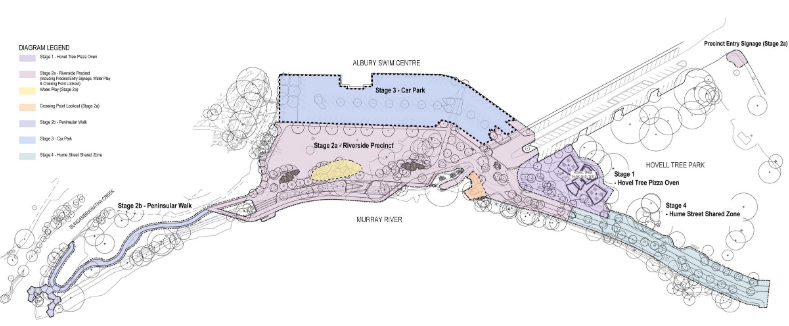 26 March 2021
Detailed design for stage 1 and 2 is complete with Stage 4 (Hume Street shared zone) underway. The crown licence application has been submitted. When the licence has been received the tender process can commence.
4 December 2020
Stage one works are complete under the Wood Fired Oven Project. The detailed design process for 2a and 2b are complete and seeking river authority feedback for the review of environmental factors.
14 August 2020
Group GSA are in the final stages of the detailed design process while the tender documents are being prepared.
25 February 2020
At the Council meeting last night Council endorsed the refined Riverside Precinct concept designs. The project will now progress to detailed design stage noting the comments received through the public exhibition process. Detailed design will be completed on all stages however only stages 1, 2a and 2b will be constructed as part of the Regional Growth, Environment and Tourism funded project.
Staging plan
1. Landscaping adjoining Hovell Tree Park shelter
2a. Riverside Precinct/promenade
2b. Peninsula
2c. Water Play (to be included in the Citywide Play Space Strategy as an additional stage at Oddies Creek Play Space)
3. Car Park
4. Noreuil Parade shared zone and market area
8 November 2019
The pubic exhibition period for the refined Riverside Precinct concept designs concluded on 1 November 2019. A report is being prepared for council which will outline the comments received and any amendments to the designs.