Murray River Experience Projects
We're one of three local Councils successful in receiving funding through the NSW Government's Regional Growth Environment and Tourism Fund to undertake projects to enhance and improve our connection with the Murray River.
A total of $10M will be spent over fours years to improve our riverside between Oddies Creek Park and Wonga Wetlands. We're matching the government funding with a $5M investment. Our key projects include:
Riverside Precinct Development
Total Project Cost : $4.7M
2019 - 2020 Budget : Existing funding
This project will transform a section of the river behind the Albury Swim Centre at Hovell Tree Park and will change the way both residents and visitors interact with the river and surrounding open space.
The scope of works includes:
A boardwalk, jetty access and a mooring point
Better access to the river
BBQs and picnic facilities and built shade structures
Better car parking and improved links with the Wagirra Trail, CBD and Hovell Tree Park.
This project is currently in the design phase. A series of approvals will be required following the detailed design.
Construction is expected to commence in early 2020.
Riverside Improvements
We're also undertaking major improvement works to a number of other attractions within our riverside parks as well as improving the streambank and removing environmental weeds.:
Wonga Wetlands Visitor Education and Experience Centre
Total Project Cost : $1.1M
2019 - 2020 Budget : Existing funding
The visitor education and Experience Centre project involves:
Construction of a multi purpose building to be used for a visitor and education centre
Upgrade and expansion of the existing carpark
Improved landscaping
Wagirra Trail Extension - Wonga Wetlands
Total Project Cost : $2.4M
2019 - 2020 Budget : $808K
The Wagirra Trail currently links the Union Bridge to Wonga Wetlands. Along the existing six kilometre trail you can view the 11 art pieces of the Yindyamarra Sculpture Walk,
We'll now extend the trail for an additional 12 kilometres along the banks of the Murray River around the perimeter of Wonga Wetlands. The project will involve:
Construction of a 2.5 metre wide sealed trail
Installation of seating every kilometre
Bike racks and picnic tables
Directional signage
Expansion of the Yindyamarra Sculpture Walk with five additional art pieces
View larger plan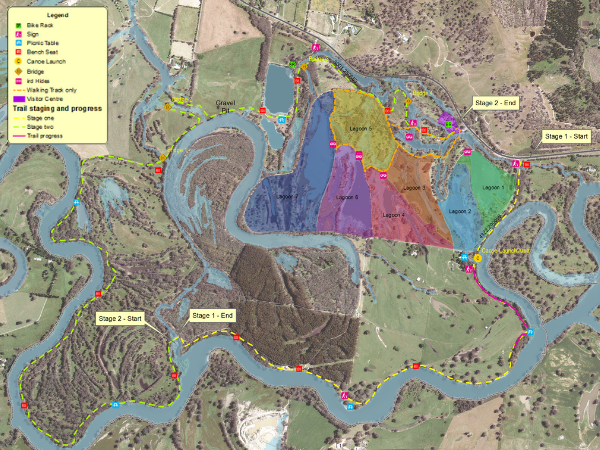 Other Council funded projects
Funding overview
| Council | Council funding | Grant Funds | Other contribution | Total |
| --- | --- | --- | --- | --- |
| Albury | $5,060,000 | $5,069,000 | $0 | $10,129,000 |
| Berrigan | $827,000 | $2,127,000 | $300,000 | $3,254,000 |
| Federation | $2,865,000 | $3,826,000 | $500,000 | $7,191,000 |
| Total | $8,752,000 | $11,022,000 | $800,000 | $20,574,000 |
View Berrigan Shire Council Projects
View Federation Council Projects
Corowa Mulwala Trail and Foreshore Precinct improvements
Corowa Riverfront Precinct
Mulwala Foreshore Precinct
Corowa Mulwala Trail
Read more about Federation Councils Projects