Noreuil Park Foreshore Improvements
Major improvement works are underway at Albury's popular Noreuil Park Foreshore.
We received funding through the NSW Government's Stronger Country Communities Fund and Regional Growth, Environment and Tourism Fund to undertake the following works.
Stage 1 - November to December 2018
Installation of concrete pads for the picnic tables including two picnic tables that are linked to the path network for easy access
Realigning and widening the Wagirra Trail through the site to assist in reducing the conflict between cyclists and pedestrians
Installation of additional play elements in the playground area
Fencing the playground area to increase safety for families
Concreting the gathering area between River Deck Cafe and entry gate of the fenced playground
Installation of a drinking fountain and water bottle filling station
Installation of bike racks
Stage 2 - Scheduled March to November 2019
Upgrade of the car park with more disabled car parking. The project will also include the construction of a retaining wall at the rear of the Mitta Mitta Canoe Club/River Deck Cafe building
Construction of a new bicycle route that bypasses the main area of the Foreshore area
The upgrade works have been designed to align with the Murray River Experience Master Plan (2007) and the Noreuil Park Foreshore Master Plan (2016)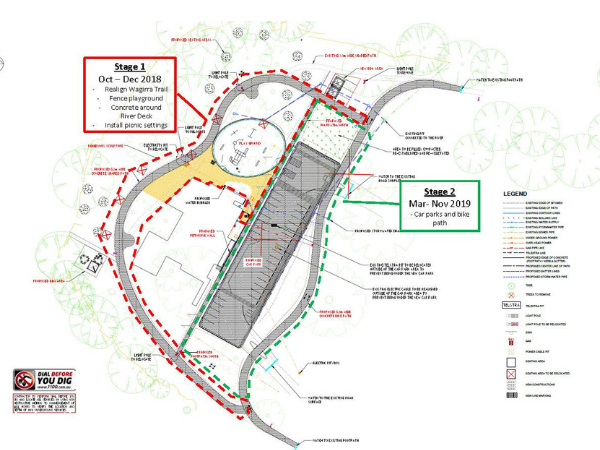 14 December 2018
The playground area is now open with the completion of the fencing. Other works this week included planting of five Chinese Elms, completion of the irrigation system and laying of turf. More turf is ordered for next week. Additional play equipment, drinking fountain and bike racks will now be installed early in the new year.
7 December 2018
Noreuil Park works continue this week with completion of all concrete works in this stage, alterations to the irrigation system, levelling around the worksite and additional tree planting. Turf is on order and will be laid next week. Playground is still closed with the fencing scheduled to be completed next week.
16 November 2018
The River Deck Cafe re-opens on Saturday 17 November while the playground area is still closed due to the construction works. The centre grassed area is now open for the summer parking while there are changes to the parking adjacent to the Cafe. Pedestrian access is now available on the foreshore area, however there are still active construction zones.
11 November 2018
Works continues in front of the River Deck Cafe and realignment and widening of the Wagirra Trail this week. The Cafe will reopen on 17 November.
9 November 2018
Concrete pads have been installed for the picnic tables and works have commenced on realigning and widening the Wagirra Trail.